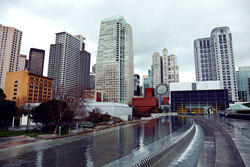 We are working with complex, interconnected systems, consumers as patients, quality management, risk management, cyber-security, while navigating the regulatory landscape. There aren't a lot of teams that have done this before, and we do it every day…
San Francisco, CA (PRWEB) February 28, 2017
Answering strong demand for its medical device software design and development services in the Bay Area, Orthogonal LLC will open a branch office in the Soma neighborhood in San Francisco on March 1, 2017. The opening also provides a location for growing Bay Area staff human factors, FDA regulatory and software systems architecture subject matter experts.
Orthogonal serves a sizeable clientele in the Bay Area. Many of those clients specialize in the manufacture of connected medical devices - including startups located here that develop innovative devices and sensors. Orthogonal also serves large medical device and pharmaceutical companies located in the Bay area, as well as software firms that serve the medical device firms.
The new Bay Area office has arrived just in time. Orthogonal CEO Bernhard Kappe underscores the opportunity that exists to address growing unmet demand and needs:
"There's a great deal of hardware, sensor and software expertise as well as consumer-facing user experience here. However, harnessing these elements in a manner that creates value in the context of FDA regulated space is challenging. We are working with complex, interconnected systems, consumers as patients, quality management, risk management, cyber-security, while navigating the regulatory landscape. There aren't a lot of teams that have done this before, and we do it every day, so we can provide our customers a much faster, less risky path to success."
The San Francisco office will be lead by VP of Product and Human Factors, Adrian Pittman, who is responsible for providing staffing, business development and human factors subject matter expertise for the company's West Coast division.
"The FDA regulated medical tech space is experiencing fantastic investment growth in both the startup tech and pharma sectors and having a presence in the very epicenter of that movement - a stones throw from places like Palo Alto, Berkley and more - is an exciting opportunity, not to be missed," Pittman was quoted as saying.
About Orthogonal
Orthogonal is a Chicago and San Francisco based company that builds mobile and cloud based companion software for medical devices, sensors and diagnostics. We've developed Class I, II and III connected care systems in a broad range of areas, including cardiology, diabetes care, neurostimulation, drug delivery and orthopedics. We've built FDA cleared systems for patient adherence, continuous monitoring, early detection and prevention, personalized therapies and chronic condition management. For more information, contact Ke Li Yew at (866) 882-7215 or visit http://orthogonal.io.