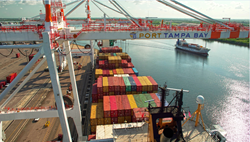 Between the area's unparalleled quality of life attributes, logistics infrastructure, and a young highly-skilled workforce, it's no wonder that Tampa is becoming a driving force in the U.S. industrial market.
Tampa, Florida (PRWEB) March 01, 2017
Global commercial real estate firm Colliers International has named the Tampa Bay area among the Top 10 Emerging Industrial Markets in the U.S., with the city jumping to the number 10 spot from their number 28 ranking in 2015. According to the report, the area is seen as an emerging market due to the key strengths of an influx of population to fuel a growing workforce and e-commerce giants, including Amazon and Walmart, opening multi-million-square-foot distribution centers.
"We're thrilled to be recognized among the top emerging industrial markets in the U.S.," said Craig J. Richard, President and CEO of the Tampa Hillsborough Economic Development Corporation. "The Tampa Bay area has had significant investments from logistics companies, and with an abundance of nearly 3,000 acres available in nearby Plant City, we are well-equipped for even more company expansions in 2017."
According to the Colliers report, a main logistics driver for the area is CSX railroad, which opened its 318-acre Central Florida Intermodal Logistics Center (CFILC) in 2014. The CFILC terminal can process 300,000 containers a year and can potentially be developed into 7.9 million square feet of distribution and light industrial facilities.
Further strengthening Tampa's infrastructure, the Tampa International Airport (TPA), already ranked as one of the top international airports in the country, is undergoing a major $1 billion expansion. Once complete, TPA will have the capacity to accommodate 35 million passengers each year – more than double its current annual number.
Companies in the area can also leverage the largest port in Florida, which moves nearly one-third of all cargo in and out of the state. Port Tampa Bay, situated at the intersection of the major east-west and north-south trade lanes, allows companies access to both primary Florida markets, as well as to the Latin American market and the expanded Panama Canal. The addition of the Tampa Gateway Rail Terminal, the nation's first ethanol‐unit‐train‐to‐pipeline distribution system and Florida's first on‐dock unit train capability, is speeding the unloading of trains and cargo-bearing ships, and strengthening the port's position as the leading energy gateway in Florida.
The area is also seeing a tremendous influx of new residents, especially with Millennials. Realtor.com's 2016 relocation study named Tampa as America's top relocation destination. As the country's economy continues to grow, Millennials are heading south to improve their quality of life and take advantage of Tampa's affordable housing prices, strong job market, and no income tax status.
"Between the area's unparalleled quality of life attributes, logistics infrastructure, and a young highly-skilled workforce, it's no wonder that Tampa is becoming a driving force in the industrial market in not only the state of Florida but within the entire U.S.," said Richard.
Link to full report here.
About Tampa Hillsborough Economic Development Corporation
The Tampa Hillsborough EDC works to develop and sustain a thriving local economy through the attraction, retention, and expansion of high-wage jobs and capital investment in Hillsborough County and the cities of Tampa, Plant City, and Temple Terrace. We focus on growing locally established companies as well as recruiting corporate operations in targeted industry sectors including Information Technology, Financial and Professional Services, Life Sciences, Defense and Security, Manufacturing, and Distribution and Logistics. The Tampa Hillsborough Economic Development Corporation exists because of the generous support of over 120 investors from the local community. For more information, visit tampaedc.com.