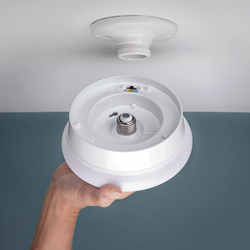 Changing Lighting Everyday
(PRWEB) March 01, 2017
ETI Solid State Lighting, a leader in high-quality, commercial and residential lighting solutions, today announced the issuance of several patents for its unique Easy Spin Light product in the fast growing LED retrofit market space. The Easy Spin Light designed to replace ordinary lightbulbs by transforming them into high quality, attractive lighting pods that bring a warm ambiance in any room. As the original entrant into this tightly contested lighting category, ETi Solid State Lighting can claim its sole ownership of the spin on light fixture segment.
Utility patents 9,500,352, 9,541,270, and D 776,326 best describe how to utilize and install the award winning design. "We are proud to be the first in the category to provide the homeowners an "easy" way to make an everyday light socket into an attractive light fixture that saves energy and maintenance" Said Gary Van Winkle, Vice President, ETI Solid State Lighting. "While there are many similar products that have used our design, they are aware of our patent and have started exiting the category". said Eva Chan, CEO, ETI Solid State Lighting," and with other like patents to come, ETI Solid State Lighting strives to be a true innovator in the retail lighting category". Just last year alone, ETI Solid State Lighting added over 60 new products to its portfolio of edge cutting technology designs.
Product is currently available through ETi Solid State Lighting distributors. For more information about the new fixtures, please visit our website.
About ETi Solid State Lighting, Inc.
ETi Solid State Lighting is a wholly owned subsidiary of Elec-Tech Solid State Lighting (HK) Ltd., providing the latest in LED lighting technology with a growing line of products that include LED tubes, fixtures, LED down lights, and portable under cabinet lights. With Jadestone managed funds holding 100% interest in Elec-Tech Solid State Lighting (HK) Ltd., the company is now well-positioned for further growth and value creation building on its robust manufacturing value chain, end-user driven innovation product development, global management team and strong customer base.