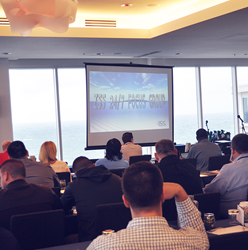 ISS 24/7's staff is incredibly helpful and have always made us feel like the #1 priority when it comes to needing assistance. Overall, 5 stars!!
Coral Springs, FL (PRWEB) February 28, 2017
The ISS 24/7 Annual Focus Group is where industry experts come together to discuss the Proactive Operations methodology inclusive of the ACDA Principle™, review power tips for both operations and technology, conduct deep dives on ISS 24/7's unified solution, talk about emerging industry technology, and how operations can "eliminate the building" to create happy memories for guests.
"Our purpose is to help elevate each of our clients to become one of the world's greatest properties and maintain that status year after year. To accomplish this, we need to understand how the ISS 24/7 platform can help them achieve their primary goal of enhancing the guest experience. How do we do that? We developed a unified solution to cover all bases of an operation via awareness, communication, documentation, and analysis (ACDA). How do we ensure it gets the job done today, tomorrow, and beyond? That's where our annual Focus Group comes in.
When it comes to the development and enhancement of our software, our Clients' ability to provide the best guest experience using the ISS 24/7 platform as their primary tool dictates everything we do. To clearly understand how to achieve this, we organize and host a Focus Group of our Clients - many of whom are the best operators in the world. Working with this elite group ensures our programming roadmap is laser focused and tailored to their needs, and every participant gains greater insight that they can start applying immediately." – Scott Meyers, Vice President of Sales, ISS 24/7
Once the 2017 Focus Group concluded, ISS 24/7 reviewed the feedback received from over 100 attendees. Ashley Alba, Assistant Security Director for Swire Properties, Inc., provided one of the many testimonials during the event:
"ISS 24/7 is beneficial to our property as a whole! We have a multi-use facility that incorporates retail, hotel, residential and commercial buildings. ISS 24/7 has allowed us to communicate amongst the different departments involved in all daily activities, as well as special events because we have the capability to use mobile devices that track incidents, checklists, pre & post event details and more while using in real time.
ISS 24/7 keeps all staff members up to date at all times, which really makes a difference during critical events, whether it is security related to maintenance related items. The analytics & reports are also extremely critical in my operation, and ISS 24/7 has provided simple, user-friendly options on how to auto-receive these reports.
The product is customizable to every property and extremely user-friendly. ISS 24/7's staff is incredibly helpful and have always made us feel like the #1 priority when it comes to needing assistance. Overall, 5 stars!!"
The event included a number of intuitive topics, power tips, innovative products undergoing R&D, and guest speakers inclusive of: Marlon Gonzalez, SMG-Minnesota; David Gilster, AT&T Performing Arts Center; Scott Lasker, Buffalo Bills; Alex Hernandez, United Center; Anthony Mozzicato, Miami Dolphins; Brandie Remmer, Atlanta Falcons; Brian Weber, City of Orlando Venues; Chad Ludkey, Bridgestone Arena; Dave Felsen, Kansas City Chiefs; Irv Sikorski, University of Notre DameJeff Gillies, Washington Redskins; Joe Venne & Kevin Marroquin, Macerich; John Cline, Baltimore Ravens; Julia Chiarelli, Air Canada Centre; Julian Sakti & Analisa Robles, San Francisco 49ers; Maria Sapienza, Chicago Cubs; Omar Jufko, Cleveland Indians; Paul Turner, AT&T Stadium/Dallas Cowboys; Ryan LoScalzo, Washington Nationals; Spencer Serafin, San Francisco Giants; Stephen Freeman, University of Texas; Yolanda Lovato, Pepsi Center
Until next year's Focus Group, ISS 24/7 would like to thank its clients and colleagues for continuing to help ISS 24/7 develop software for the world's greatest properties.
About ISS 24/7
ISS 24/7, the nation's leader in incident management and CMMS software for sports and public entertainment venues, provides innovative technology to increase efficiency and effectiveness of venue operations. ISS 24/7 offers software for incident management, maintenance management, text communication, and lost & found.
ISS 24/7 software is implemented in 67% of the NHL, 60% of the NBA, 77% of the MLB, 78% of the NFL, 62 NCAA schools, 100% of the International Speedway Corporation (ISC) tracks, and 87% of the tracks where NASCAR Sprint Cup Series races are held. Many large music festivals, air shows, and major events (Super Bowl LI, World Series, Kentucky Derby, Pan American Games) operated in North America utilize the ISS 24/7 software as well. ISS 24/7's software is also used in Canada and Europe with marquee venues such as the Rogers Arena in Vancouver, Air Canada Centre in Toronto, Ziggo Dome in Amsterdam, and the O2 Arena and Lord's Cricket Ground in London.
Readers interested in learning more about the client list and unified solution, visit http://www.ISS247.com.