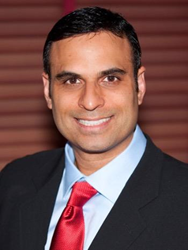 Chicago, IL (PRWEB) February 27, 2017
In celebration of American Heart Month in February, Dr. Amarik Singh is raising awareness about the adverse effects that untreated gum disease can have on heart health. As a leading periodontist in Chicago, IL, Dr. Singh helps mitigate this danger by offering cutting-edge laser gum surgery to treat periodontal disease.
Periodontal disease is a prevalent problem in the United States, with nearly half of American adults over age 30 suffering from it, according to the Centers for Disease Control and Prevention (CDC). The American Academy of Periodontology (AAP) reports that these individuals may be more likely to develop heart disease or have their existing heart conditions worsen. This may occur because the inflammation associated with gum disease spread throughout the body and causes chronic, systemic health problems. Given these connections, Dr. Singh urges patients to immediately visit a periodontist in Chicago, IL, if they develop common signs of periodontal disease, including gum recession, swelling or bleeding.
Dr. Singh, who specializes in treating periodontal disease, uses laser dentistry to eliminate this condition without exposing his patients to unnecessary risks or complications. With laser gum disease treatment, Dr. Singh can precisely target and eliminate diseased gum tissue, while leaving healthy tissue intact to protect the teeth. Laser dentistry procedures offer a more gentle alternative to gum surgery; they cause minimal pain, present a low risk of infection and permit shorter healing times. These benefits make treatment more accessible and convenient for people who live with periodontal disease.
People who wish to schedule consultations about periodontal disease treatment with a periodontist in Chicago, IL, are encouraged to call Dr. Singh's practice, Periodontal Implant Associates, at (630) 424-9404. Patients may also visit the website at http://www.pidentists.com and use the online form to request appointments.
About the Practice
Periodontal Implant Associates is a periodontal practice offering personalized dental care for patients in Oak Brook, IL and the Chicago area. After graduating from Northwestern University Dental School, Dr. Amarik Singh went on to obtain his Specialty Certificate in Periodontics and earn his Master's from Northwestern University. Dr. Singh is deeply committed to continuing education and prides himself on remaining on the cutting-edge of the newest techniques and technology in dentistry. Dr. Singh has placed over 15,000 dental implants using a minimally-invasive technique and is part of an elite group of dental professionals at the forefront of the Chao Pinhole® Surgical Technique (PST™), a revolutionary new approach to repairing gum recession. To learn more about the periodontal services available at Periodontal Implant Associates, please visit http://www.pidentists.com or call (630) 424-9404.