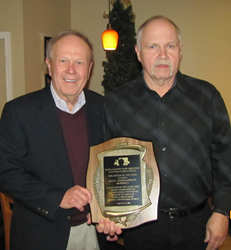 "Joe is truly an ambassador for our industry, company, and the professional driving employees that bring honor and respect to all of us by representing us at the highest level on our nation's highways daily." James E. Ward, President & CEO
Frederick, MD (PRWEB) March 01, 2017
The Maryland State Police chose Joe Nesslerodt as the state's 2016 Driver of the Year. Nesslerodt was one of 12 professional truck drivers honored by the Maryland Motor Truck Association as their 2016 Drivers of the Month, with the State Police selecting him as the Driver of the Year. Nesslerodt, a Ranson, WV resident, is a professional over-the-road driver for D. M. Bowman, Inc, located in both Frederick and Williamsport. He has driven for nearly 41 years out of these terminals and has traveled accident free over 4.7 million miles! That's the equivalent of circling the earth close to 157 times!
Joe's many accomplishments also include:

Being named as a member of D.M. Bowman's Road Team
Inductee in the prestigious D.M. Bowman Hall-of-Fame.
President & CEO, James E. Ward added, "Joe is truly an ambassador for our industry, company, and the professional driving employees that bring honor and respect to all of us by representing us at the highest level on our nation's highways daily."
Nesslerodt first learned to drive a truck from his father when he was just 16 years old. According to Joe, "I went to school in the day and drove for my uncle at night." He also worked driving for the quarry in Millville, WV. When work at the quarry slowed, he called D.M. Bowman in 1976 and has not looked back!
Joe also drove tag team with his wife, Karen, for years. He commented that Karen, "being only 4 feet 10 inches tall was quite a sight to see in a big rig!"
One of his most memorable and humbling driving experiences includes when he travelled through Garland, Texas right after a tornado. He noticed there were no lights in the town. Entire apartment complexes were destroyed and pieces of houses were lying in the roadways.
Joe still talks to and mentors drivers. Driving can be a difficult life and affect one's body. He is committed to taking care of himself and staying healthy. He still tries to walk 4 miles a day even while out on the road. He weight trains, does cardio exercises at a local gym, and tries to eat healthy.
According to Joe, key successful driving tips for both truck drivers and motorists include:

Drive posted speed limits or less- only drive as fast as your mind can work!
Stay a safe distance back from the vehicle in front of you!
If you can't see a truck driver's mirrors, he can't see you!
About Maryland Motor Truck Association
Maryland Motor Truck Association, founded in 1935, serves needs of every segment of the trucking industry through a wide range of informational, educational, regulatory, and legislative initiatives. Recognized as one of the largest trucking associations in the country, MMTA has over 1,000 member companies.
About D.M. Bowman:
D.M. Bowman, Inc., named as one of the Top 250 Carriers in the nation, operates its logistics organization which includes dedicated / regional transportation and warehousing from headquarters strategically located at the crossroads of Interstates 70 & 81 in Maryland. Founded in 1959, we are privately held, and take great pride in our motto, "We Carry Through!" (Visit http://www.dmbowman.com/)