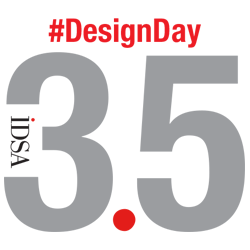 "National ID Day focuses on the huge contributions made by industrial designers to our economy and to the greater good. Lend your voice and effort to help the profession shine brightly on March 5 and throughout the year."
Herndon, VA (PRWEB) March 01, 2017
The Industrial Designers Society of America (IDSA) is marking National Industrial Design Day on March 5, 2017 by raising awareness of the profession of industrial design (ID) and relaunching "What Is ID?"—one of the most popular sections of its website—with robust content geared toward high school students and counselors; parents; and the greater public.
Share details and photos of National ID Day outreach events using #DesignDay and tagging @IDSA on Twitter; Industrial Designers Society of America on Facebook and LinkedIn; and @IDSAdesign on Instagram. Send details and photos of events to membership(at)idsa.org.
"Industrial design touches all of us every day in countless ways—whether it is represented in the cars we drive, the houses we live in or the medical devices that save lives. Despite the closeness of industrial design to our lives, many people do not draw the connection between ID and the products designed by the profession," says IDSA Executive Director Daniel Martinage, CAE. "National ID Day focuses on the huge contributions made by industrial designers to our economy and to the greater good. Lend your voice and effort to help the profession shine brightly on March 5 and throughout the year."
IDSA chapters, sections, members and all designers can make an impact by:

Hosting an Open House: Invite the community to the space where you're making things happen—whether in a classroom, office, studio, manufacturing facility, museum, etc.—to showcase products, processes, education, history and more.
Bringing Children to Work: Enlighten the next generation with a tour of a design studio or allow them to shadow designers for a day.
Partnering with a Local School or Scout Troop: Plan a lecture or demonstration to teach students or Scouts the value of industrial design.
Launching a New Product: What better way to mark National Industrial #DesignDay than to launch a new product, service, experience, brand or more?
Going Viral: Share news of your ID celebration on or around March 5, 2017, or what ID means to you, by using #DesignDay on social media.
Events are planned across the country by groups such as IDSA's Students Special Interest Section; University of Wisconsin-Stout's IDSA Student Chapter; IDSA Florida Chapter and Miami College of Design; Savannah College of Design's IDSA Student Chapter; IDSA Kentucky Chapter and GE Appliances/FirstBuild; and Art Institute of Orange County, CA.
March 5, 2015 was entered into the U.S. Congressional Record as the first National Industrial Design Day when U.S. Rep. Gerald E. Connolly declared that industrial designers "improve our lives in every way and are worthy of our recognition." The day marked the 50th anniversary of the founding of IDSA, which is headquartered in Herndon, VA—part of Connolly's 11th Congressional District just outside Washington, DC.
In the United States, product design and related services generate billions of dollars in sales and the number of U.S.-awarded design patents has reached an all-time high. "The economic impact of this industry helps fuel our nation's economy," says Connolly. Industrial designers envision the products that fill homes, offices, hospitals, schools and roads—and serve diverse fields ranging from environment to entertainment; social impact to service; communication to recreation. They work in tandem with engineering, manufacturing, marketing and management leaders to create countless innovations used every day such as computers, mobile phones, music players, appliances, GPS, furniture, child safety seats and surgical equipment.
National Industrial Design Day sponsors include 3M; Banner & Witcoff; Cesaroni Design; Covestro; Crown; Dell; Eastman Innovation Lab; LUNAR; McAndrews, Held & Malloy; Metaphase; Pip Tompkin Design; TEAGUE; Thrive; Tupperware and Aether Learning.
IDSA hosts the annual International Design Excellence Awards (IDEA®) (#IDSAIDEA)—one of the world's most prestigious and rigorous design competitions—open for entry this year through March 17. Gold and Silver winners will be unveiled in a ceremony and gala Aug. 19—at the culmination of the IDSA International Design Conference 2017: Design IS Business (#IDSA17Atlanta). IDEA winners are featured in INNOVATION magazine's Yearbook of Design Excellence. Annually in the spring, IDSA hosts five coast-to-coast District Design Conferences (#IDSACDDC #IDSANEDDC #IDSASDDC #WDDC #IDSAMWDDC). For the first time, the Society is hosting a Women+Design Summit (#IDSAWomenDesign), set for May 12. 2017 in San Diego.
IDSA is a member of the World Design Organization.