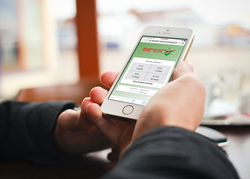 Any organization can come to @Pay and, in minutes, have a complete mobile-first fundraising system with online giving pages, text-to-give, and donor management
Albuquerque, NM (PRWEB) March 01, 2017
@Pay LLC announced today that it has rolled out significant updates to its patented 2-click fundraising software targeted to nonprofits. Recognizing the importance of the 'mobile-first' experience, @Pay offers robust yet easy-to-use payment solutions for web, email and text-to-give on mobile devices. "With nearly 1,000 new organizations signed up to use @Pay's products in the past 24 months, 75% of which have joined in the last 12 months alone," said John P. Killoran, Jr., Chief Executive Officer of @Pay, "we are confident that we have the best technology available to empower charitable giving at the lowest possible cost."
@Pay's reinvention of the typical online payment page is one reason nonprofits are signing up in such great numbers. Traditional payment pages require visitors to fill out numerous fields each time they want to make a payment, including creating an account complete with yet another username and password and then logging in each time that donor visits the site to make a donation. The rapid move to a mobile lifestyle makes such systems tedious and unpopular. @Pay's online giving pages and mobile experiences allow donors to make a payment or donation in two easy clicks; no password, no new account creation, and no long forms. @Pay's patented technology authenticates every payment by email using existing SMTP encryption and security protocols. Best of all, @Pay's nonprofit customers still capture all of the same donor information.
"We want to make charitable giving and receiving easy for all, both donors and nonprofits alike. If it's easy for people to give, more people will do just that," said Wauker Matthews, @Pay's Chief Revenue Officer. "What is not often discussed is the other side of the coin. It's difficult for nonprofits to bring a simple but secure giving experience to their donors, and this is the root of the problem. Our goal is to create innovative, easy-to-use tools that remove as much friction from the giving experience as possible," said Matthews. "Any organization can come to @Pay and in minutes have a complete mobile-first fundraising system with online giving pages, text-to-give, and donor management. @Pay's mission is to not just simplify the process for the donor, but for the nonprofit too."
Looking ahead, @Pay is already integrating more services into its platforms; such as email marketing, crowdfunding, and advanced donor lifecycle tools to make charitable giving and donor management more efficient and user-friendly.