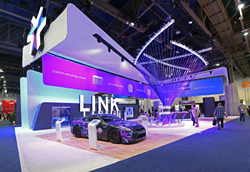 "A subtle, sophisticated color palette" - Travis Stanton, Editor at EXHIBITOR Magazine
(PRWEB) March 01, 2017
EXHIBITTRADER.COM Inc., a Dallas based corporation, is both humbled and honored to have been selected to EXHIBITOR magazine's elite list, of the top 20 most remarkable exhibits at CES 2017, by its editor, Travis Stanton. This recognition was bestowed upon a 50' x 90' LINK display design and production for their client, Fasetto, LLC.
Amongst 3,800 plus, individual exhibitors occupying over 2.5 million sq. ft, Fasetto's LINK display was ranked 5th overall in a field of big league brands and very diverse product offerings.
"We can't thank everyone enough", says Chad Rogowicz, COO of ExhibitTrader, "Our trusted partners all played a unique and vital role in the execution of this event and each was an integral part of the overall project success for us. I would like to take this time to recognize a few of those key partners from all over the US, Canada and of course, Las Vegas who worked so diligently behind the scenes to make this highly coordinated event such an awe inspiring success. Thank you to our friends at Southwest Displays and Events; Brad Oldham Sculpture and his associates at MP Custom Fabrications, LLC; Five Inc.; McRae Imaging Inc.; Nth Degree; and Freeman".
Click here to read full article.
We would also like to extend our warm congratulations to the other exhibitors and suppliers that made the top 20 list as well; all of the exhibits were stunning. We look forward to seeing all at CES 2018.
For more information:
Visit http://www.exhibittrader.com to learn more
Contact:
Lindseyraye(at)exhibittrader(dot)com
214-459-1550