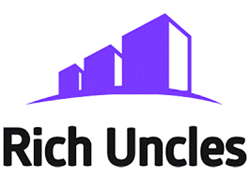 Costa Mesa, CA (PRWEB) February 28, 2017
Leading financial technology company, Rich Uncles, today announced the launch of a new Wealth Management Division, complementing the company's existing consumer-direct investment platform. Leading the recently-developed division will be new Managing Director of Capital Markets, Brad Watt.
"We are pleased to welcome Brad to the Rich Uncles family where he will play an integral role in expanding our investment channels," states Rich Uncles CEO Harold Hofer. "We are passionate about providing all investors with broader access to quality real estate investment programs, and Brad shares this passion."
Watt comes to Rich Uncles with decades of experience providing real estate investment advice to high net worth and institutional investors. He has held executive leadership positions with some of the country's largest non-listed REIT companies, and has also been instrumental in structuring and distributing several public and private alternative investment offerings.
At Rich Uncles, Watt will be responsible for developing the company's wealth management business that will include Registered Investment Advisors (RIAs), asset managers, family offices, and other domestic and foreign qualified purchasers. No commissions or fees will be paid by Rich Uncles to RIAs or any other person who facilitates the sale of shares in the company's investment offerings.
Using a client-centric technology platform, Rich Uncles has completed the fundraising for two prior investment programs and is currently offering $1 Billion of common shares for a publicly registered non-listed REIT (Rich Uncles NNN REIT). Proceeds from the NNN REIT will be used to acquire and manage a diversified portfolio of high quality, single tenant properties located in strategic markets throughout the United States.
"This affiliation fulfills the long-term goal of aligning with a fiduciary model in providing simple and low-cost real estate solutions directly to investors, as well as fee-based advisors and asset managers," Watt states. "I am pleased to join this team of high caliber real estate and technology professionals, and I look forward to helping the company diversify its client segments and advisory channels."
Discover more @ http://www.richuncles.com/wealth-management
About Rich Uncles
Rich Uncles was founded for a single purpose – to make real estate investment easier and less expensive for the small investor.  Rich Uncles has created an on-line distribution channel for the sale of non-exchange listed public REITs that eliminates payment of 10% commissions to financial planner intermediaries. This new distribution channel embraces the large-scale reach of the internet, and the ease of access to and transparency of information contained over the internet. To date, Rich Uncles' combined portfolio includes 33 properties and $198M assets under management (AUM)*. *Including properties under contract
Company executives include Ray Wirta, Chairman of the Board, who is also the current Chairman and former CEO of CBRE, and Harold Hofer, CEO and Director. The company's president is Howard Makler.
3080 Bristol Street, Suite 550, Costa Mesa, CA 92626
Office: 1-855-Rich-Uncles 
http://www.richuncles.com/wealth-management
Follow Rich Uncles on Social Media at Facebook/Twitter/LinkedIn: @RichUncles
Rich Uncles NNN REIT, Inc. has filed a registration statement (including prospectus) with the US Securities and Exchange Commission (SEC) for the offering to which this communication relates.  Before you invest, you should carefully read the prospectus in the registration statement and the other documents Rich Uncles NNN REIT have filed with the SEC for more complete information about Rich Uncles and the securities offering.  You may get these documents for free by visiting EDGAR on the SEC web site at http://www.sec.gov. Alternatively, Rich Uncles will arrange to send you the prospectus if you request it by calling toll free (855-RichUncles) or email at prospectus(at)RichUncles(dot)com, or by clicking the attached hyperlink: http://RichUncles.com/prospectus/nnn
Contact:
Lauren Rugge
949 835 4310
lauren(at)richuncles(dot)com