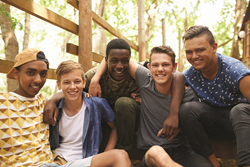 Our recovery home provides a much needed service for adolescent boys who need a stable and safe environment to continue their recovery.
Chicago, IL (PRWEB) February 28, 2017
Gateway Alcohol and Drug Treatment Centers has opened a new Youth Boys Recovery Home located in Carbondale, IL, to expand access to its comprehensive, evidence-based addiction treatment. The Youth Boys Recovery Home provides transitional services to teen boys after completing residential treatment. An open house will be held on Thursday, March 9, 2017 from 2 to 4 p.m. Gateway invites you to see the space, meet our highly qualified clinical team and learn about our recovery home services.
The purpose of the recovery home is to provide a productive atmosphere for youth boys who may not have a safe place to return to after treatment. Katie Stout, Executive Director at Gateway Carbondale, says "Our recovery home provides a much needed service for adolescent boys who need a stable and safe environment to continue their recovery".
At the home, boys work on educational or vocational goals with the guidance from highly qualified clinical staff. The length of stay starts at 3-6 months, but welcome to stay as long as needed. Stout and the entire Gateway team are excited to serve the community in this new way.
The Youth Recovery Home is located at 1080 E. Park St, Carbondale, IL 62901. Gateway will host its open house on March 9th from 2-4 p.m. A light lunch will be served and all attendees will be entered to win a Fitbit.
About Gateway Alcohol & Drug Treatment
Since 1968 our goal has been straightforward: to help clients get their life back on track and achieve a life of sobriety, free from drug use and symptoms of mental illness, that is productive, socially responsible, and healthy. Gateway Foundation is the largest nonprofit treatment provider in the country that specializes in the treatment of substance use disorders, providing treatment for men, women, adolescents, and clients diagnosed with co-occurring mental health disorders.
Gateway's Community Division has treatment centers located throughout Illinois, including Carbondale, Chicago, Lake County, Fox Valley, Springfield, and the St. Louis Metro East area. These centers offer residential and outpatient treatment services for adults, teens, and adolescents accessed through insurance, state funding, and self-pay.
Gateway's professional clinicians help thousands of individuals successfully complete treatment by developing a personalized plan that treats the underlying causes of substance abuse—not just addiction to drugs or alcohol.
Learn more about insurance coverage, treatment options, or Gateway's confidential consultation at RecoverGateway.org or call 877-505-HOPE (4673).
Reporters and Editors, for more information, please call Leslie Colman, Marketing Director, at 630-776-5725.