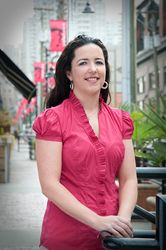 Don't be intimidated. Stand up, have a voice, be seen and be heard.
Vancouver, British Columbia (PRWEB) February 27, 2017
Susan Daly has been the CEO of document security software developer Vitrium Systems for the last six years. She has lead the company through its growth and expansion, overseeing the addition of new features, core technology improvements of the company's flagship product, Vitrium Security, the addition of encrypted web-links for documents to supplement secured PDF distribution, and the soon to come expansion into virtual board room through Vitrium Security's new central user portal.
Tell us a bit about yourself and what it is that you do.
I'm the CEO of Vitrium Systems, a software company based in Vancouver that provides cloud-based content security, rights management and analytics software to organizations that wish to protect their confidential, sensitive or revenue-generating content. Currently, our platform offers protection of PDF, Word, Excel and PowerPoint files but we're soon adding other content formats such as video and images. We have clients around the world and they mostly come from the Education, Training, Associations, Research and Financial markets.
I have been the CEO of Vitrium for the past 6 years but I have also had 2 children during this time so I've had a couple of hiatuses during that time when I took mat leave. As a mom of two small children under 4 and running a company of 15 people, it can be extremely busy and hectic but I honestly wouldn't have it any other way! I like being busy and keeping my mind active. I didn't start this company as I am not one of the original founders. I was promoted into the position after being with the company for a year, but I still feel that Vitrium is my baby (my 3rd baby I suppose!) and I'm as passionate as any other entrepreneur would be.
How did you get involved in the tech world?
I discovered my love of tech when I worked as a temp at Compaq Computers in London, UK in 2000. I was on the administration side but I got my first taste at working for one of the largest and most successful tech companies (at the time). It was exhilarating – fast-paced, dynamic and exciting. I lived and worked in London for a year and when I returned home to BC, I decided to complete my business degree from SFU and start working in the tech sector of BC. Over the next 15 years, I worked at various tech companies in Greater Vancouver including ACR Systems, Maximizer Software, Pacific Alliance Technologies, FINCAD, and now Vitrium.
What new tech challenges have you faced recently? How did you overcome them?
We're constantly faced with tech challenges as a software company – always trying to keep up with the demands of the ever-changing landscape. Our biggest challenge is usually related to mobile users. Before 2012 for example, our protected documents would not work on iPads or other tablets or smartphones. But then we built an HTML5 mobile friendly viewer so our customers' end users could open their secured documents on tablets and smartphones. Keep in mind, we had to build the viewer with a high level of encryption to secure the content and also enable various DRM (digital rights management) controls so it's quite a bit more challenging than building a regular HTML5 website.
Today, we continue to improve our software and leverage the advancements made in web and mobile technology for the betterment of our customers. For example, we're about to launch a new web-based user portal that will be fully responsive design and later in 2017, we'll be adding video and images to our platform so I'm working closely with our development team through the requirements phase.
What do you hope to achieve in the next 3-5 years?
I hope to build a world-class, leading organization in our market but more importantly, I hope to inspire and motivate my staff and our younger generation (particularly young girls) to be the better version of themselves and to create opportunities for themselves so they can achieve greatness in their future. I didn't get to the position I'm in today by sitting on my laurels. I worked hard, put a lot of blood, sweat and tears into my work and into my personal development, and thankfully, it paid off. I was promoted to CEO by the time I was 34 years old and I'm quite proud of that!
If there is one thing you could change for women in tech, what would it be?
I believe things are changing but I would like to see more men embrace female leadership in the tech world and understand the challenges that we face, particularly with balancing family and work. I would like to see programs designed for men about female leadership in the tech environment. It might sound strange but I think it's important. I attended The Art of Leadership for Women conference last year in Vancouver, a huge conference that drew in over 1,000 attendees, with about 99.5% of the attendees were female. It would be nice to see these kinds of conferences have more men attend them. It's wonderful that we have more programs geared for women in leadership and women in tech, but I feel men need to be part of the conversation and need to be included as well, and I mean men who are already at the top, who already hold leadership and board positions. I don't believe this "breaking the glass ceiling" challenge is going to come from women alone – I believe men have to contribute to this as well. I was lucky and fortunate to have three men on the board for Vitrium who believed in me and saw that I had the necessary skills and attributes to lead a company. I have since grown Vitrium from a 5-person company to a 15-person company and turned it around from a struggling, loss-making organization to a thriving, profitable business. These same men on the board continue to support me and encourage me and I owe a lot of gratitude to them for helping me break through that glass ceiling. That's what I'd like to see more of.
What advice would you give to women looking to break into the technology field?
Don't be intimidated. Stand up, have a voice, be seen and be heard.
What do you think will be the "next big thing" in tech?
Virtual reality and augmented reality – I'm seeing it and reading about it everywhere!
About Vitrium
Vitrium provides document security solutions that empower businesses that create, publish, or distribute proprietary, confidential or revenue-generating content. Vitrium's enterprise document security and digital rights management (DRM) software delivers file-level protection, control, and analytics for insight into how content is used by the audience. Vitrium protected documents have been published and distributed by thousands of companies and accessed by over a million users worldwide. To learn more about Vitrium Security or to try it for yourself, start a free trial now.