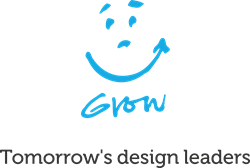 Grow was born from the frequent request of PARK clients due to unmet needs of traditionally trained designers lacking management capabilities
Santa Monica, CA (PRWEB) March 01, 2017
Grow, the professional educational program created from the 18+ years of career insights by a team of design management leaders, is changing the way design management, design leadership and design thinking is being advanced in the workplace today. Some of the world's biggest corporations have retooled their design strategies, operating structures, and processes under Grow's teachings. Their curriculum is providing real-world insight to managers seeking to innovate faster, more efficiently, and more profitably.
According to DMI's analysis of "design-centric" companies, corporations such as 3M, PepsiCo and GE have seen significant growth as a result of instituting design management practices, resulting in a 211% return over the S&P 500.
What does this mean, according to their findings? "As a result, we see design not as a pure factor that makes our DVI company's stocks perform better on the stock market, but rather as a highly integrated and influential force that enables the organization to achieve outsized results."
Who has benefitted from Grow's program so far? 3M, Unilever, Reckitt Benckiser, GlaxoSmithKline (GSK), Novo Nordisk, Kimberly Clark, Sony, Accenture, Mars, Honda, Samsonite, Newell Brands and many more. How? Grow's sister company, PARK, provides the teaching staff along with leading experts, who spend the majority of their time guiding world-leading organizations in design and innovation best practices.
According to a recent Gallup survey, about 70 percent of people in management roles are not well equipped for the job. Many managers are trying to balance their demanding workloads in a state of constant change, while leaning on traditional and often outdated general design or management education backgrounds. The more critical needs for leaders are to be able to learn and apply rapid improvements within their daily operations, and keep ahead of their competitors.
"Grow was born from the frequent request of PARK clients due to unmet needs of traditionally trained designers lacking management capabilities. It is the first-of-its-kind education program for design and innovation professionals, presented in a rich dynamic format," said Jay Peters, Managing Partner & Director of Grow USA. "Our mission is to train designers to articulate the robust business value that design can bring to their company, clients, customers & consumers".
Over the last 5 years, more than 500 designers, managers, directors, engineers, programmers, marketers, in various types of development roles from major companies have gone through the full or partial program, resulting in bottom-line improvements. Additionally, custom e-learning programs have been developed to reach thousands of in-house non-designers so they can better understand the value of design.
The curriculum is comprised of industry-leading theories, models definitions, exclusive case studies, expert interviews, while self reflections and competency assessments directly make the program personable. Grow's success and return on investment is attributed to applying all learnings back to the participant's daily roles, to ensure applicability and solutions for at-work challenges they need to address. The program is delivered through a mix of live teaching, remote learning, and one-on-one coaching.
Grow provides In-Company and In-Agency programs for those with large internal design departments, as well as Cross-Company and Cross-Agency programs for individuals from non-competing organizations. These programs address the needs of multiple disciplines, including Industrial Design, Graphic Design, Interaction and User Experience design, Technical Design (i.e. Engineering) and many more.
Said one recent graduate from Assa Abloy, the $7.5 BLL global leader in door-opening solutions, about the program: "The program is designed by designers for designers - enabling those of us in tactical roles to more confidently move up and contribute more strategically. It could not have come at a better time".
The program teaches the fundamentals of managing and leading design, addressing fundamental aspects such as design; process, briefing, tools, quality, research, resources, value, research and language. For more information or to apply for a seat visit http://www.designleadership.training
Grow USA is directed and managed by Jay Peters, who also heads the US division of PARK. Peters holds a Bachelor's degree in Industrial Design from Southern Illinois University and a Master's degree in Business Design from Domus Academy in Milan, Italy. His specialized interests include business design, design thinking and professional education. He is regularly asked to share his experience via lectures and workshops, and taught Grow programs both industry and agency professionals in Norway, Belgium, the Netherlands, and USA.
To learn more about PARK, visit: http://www.park.bz
Media Inquiries:
To learn more about PARK, Grow, or Jay Peters:
Contact: Twyla Monti
Email: twyla(at)U2R1(dot)ws
Phone: 805-290-0900