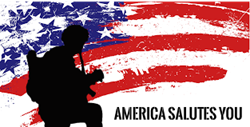 We have asked those who serve, past and present, to leave their home and their loved ones to protect our freedoms
Simi Valley, CA (PRWEB) February 28, 2017
Money raised by the America Salutes You concert is benefiting several non-profits that serve military, veterans and their families including: the Bob Woodruff Foundation, Easterseals Dixon Center for Military and Veterans Services, Give an Hour, Honor Flight Network, Illinois Joining Forces, Joining Forces California, Snowball Express, TAPS and ThanksUSA.
But while the concert has concluded for this year, the opportunity to support this great cause still remains online at https://donate.mccormickfoundation.org/americasalutes.
"Over 200,000 service members re-enter civilian life each year, joining over 22 million existing veterans," said Bob Okun, concert creator. "Many continue to need assistance with proper healthcare, employment training, education, and housing opportunities in their communities, so our hope is that monies raised will provide much needed assistance."
All funds raised go towards the concert production and to partner charities and foundations.
"We have asked those who serve, past and present, to leave their home and their loved ones to protect our freedoms," said Debbie Gregory, CEO of MilitaryConnection.com. "After 14 years of war, the number of men and women who have donned our country's uniform and served multiple tours of combat duty is the largest in modern American history. We owe them a huge debt, and we can repay it by remembering their sacrifices and providing the resources for them to achieve the American Dream."
About America Salutes You
Funds raised by the America Salutes You concert benefits those who serve and have served in the U.S. military, and their families. Performers included pop legend Cyndi Lauper, country music legend Wanda Jackson, rapper Hoodie Allen, Gospel Grammy winner CeCe Winans, world-renowned tenor Anthony Kearns, bluegrass legend Ricky Skaggs, rising country star Tegan Marie and many others.
About MilitaryConnection.com
MilitaryConnection.com offers one of the most comprehensive directories of military and Veteran resources on the web, focusing on employment, education and more. Military Connection has been named a Top 100 Employment Web Site by the International Association of Employment Web Sites for five years in a row. It is that focus on employment that garnered MilitaryConnection.com one of the prestigious Weddle's Users Choice Awards for 2015. Military Connection features thousands of pages of resources and information. There is something for everyone including, but not limited to a Job Board and Virtual Job Fair, comprehensive Post 9/11 GI Bill education information with a directory of thousands of scholarships and a Veteran school directory, news, press releases, special events, pay charts, benefits, service directories, commissaries and exchanges, golf courses and more. Military Connection has the honor of working with incredible non-profits to improve the quality of life for those who serve. When the next tour is back home, it's on Military Connection, the Go To Site.