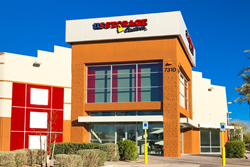 Irvine, CA (PRWEB) February 27, 2017
US Storage Centers (USSC) announced the opening of a new self storage facility located at 7310 South Priest Drive, Tempe, AZ. The company had been awarded the management contract for the facility, which was converted from a furniture store.
"We are very excited to be in Tempe. Currently we have over twelve storage locations in the greater Phoenix market so, we are fortunate to be able to now serve Tempe as well," said Jason Lopez, chief marketing officer.
A grand opening ribbon cutting ceremony and celebration is scheduled for Tuesday, March 28th, and everyone in the community is invited.
The facility has 65,312 rsf of space and 606 units. Some of the advanced features include climate control storage, keypad gated access, moving carts and video recording. The storage facility is also located on a major arterial road near major box retailers, restaurants, and residential communities.
About Westport Properties - US Storage Centers
Founded in 1985, Westport Properties Inc. is the parent company of US Storage Centers (USSC) and owns and operates self storage facilities in 14 states. The Company is a fully integrated operator that develops, acquires and manages its own portfolio—additionally, the company provides third-party management services. As of February 2017, it has over 7.5 million rentable square feet under management and employs over 200 people. US Storage Centers is a founding partner of the 501(c)(3) Kure-It, a non-profit organization that raises money for underfunded cancer research, and Charity Storage, a 501(c)(3) that uses vacant storage units to raise money for local charities. To date, Kure-It has raised over $5 million and Charity Storage has raised nearly $220,000.