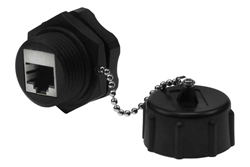 "These Cat6 Couplers are good for adding an outdoor Ethernet connection in backyard BBQ kitchen / entertainment centers…keeping water and dust out."
Hayward, CA (PRWEB) February 28, 2017
As part of its wide array of network products, SF Cable, Inc. is introducing high-quality products suitable for indoor and outdoor use. Industry professionals and residents looking to protect their indoor and outdoor patch cables from harsh environmental conditions such as dust and water can look into the company's inventory of industrial panel mount bulkhead couplers and keystone jacks.
These Cat6 Couplers are good for adding an outdoor Ethernet connection in backyard BBQ kitchen / entertainment centers…keeping water and dust out.
SF Cable's CAT6 RJ45 Shielded Industrial Panel Mount Bulkhead Couplers and Punch Down Keystone Jacks (also offered with water/dust cap) have 50 micron gold plated pins and have IP67 rating, making these products water resistant and protected from contact with harmful dust. According to CNET, an IP67 rating means the product can be submerged in up to 1 meter of water for up to 30 minutes.
The company also offers patch cable waterproof caps for use on industrial environments such as factory automation, residential outdoor network installation, and wet or untidy locations. This product must be used with unterminated wire for insertion as it will not fit with an RJ45 plug.
For more information, visit http://www.sfcable.com.
About SF Cable:
With over 8,000 products in its inventory, SFCable.com is a one-stop shop for high-quality computer accessories and components, as well as premier networking cables. Founded in 2002, SF Cable offers lifetime technical support and excellent customer service to its valued customers. Visit http://www.sfcable.com for more information.