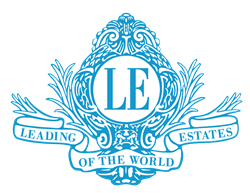 For those with the means, indulge yourself; for those with the dreams, enjoy yourself!
(PRWEB) February 28, 2017
Leading Estates of the World announces that work has commenced on Issue No. 204, with a freshly curated selection of extraordinary estates due to be released in May 2017. Experience an enticing collection of fairytale vacation getaways, world-class residential developments, and historic, handcrafted properties of distinction in storied locations such as the electrifying heights of Manhattan, the peaceful hills of Tuscany, the dazzling chic of Palm Beach, the tropical realms of Hawai'i, and the grandeur of the Hamptons.

Magnificent seafront Villa di Lusso on the cliffs of the Amalfi Coast
A tony Manhattan triplex with spectacular Central Park views
A modern architectural tour-de-force in Tokyo
Bruce Makowsky's quarter-billion-dollar Bel-Air spec-home estate
The Guinness Family's 5,000-acre country estate and hunting retreat in Ireland
A triple-adobe compound in Santa Fe, New Mexico, created by and for Eric Sloane, N.A.
More than $1 Billion USD in properties presented in the Renaissance, Dreamscape, and Storybook issues of Leading Estates of the World have sold, including Joan Rivers' Manhattan Penthouse and the iconic W.T. Waggoner Ranch in Texas, the latter called "the deal of the century" by The Land Report. With a legacy of 48+ years and an archive of over 100 issues, Leading Estates of the World is the original semi-annual publication showcasing the most extraordinary, preeminent estate properties on earth.
Leading Estates of the World brings current relevance to the amazing tales that surround the property owner and their estate lifestyle and community. Esteemed brokers and their companies—members of The Estates Club—embrace the honor and responsibility of representation, and most importantly, the pride of fulfillment in achieving the mutual goal of a successful transaction. Issue No. 204 tells these stories that transcend the ages in satisfying buyers' expectations and excitement. Reservations for two-page Showcase Presentations are still being considered. For more information, please contact [email protected]