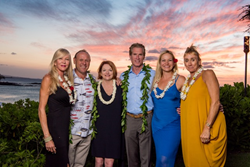 "2016 was the best year yet for MacArthur Sotheby's International Realty in Hawaii." -Dodie MacArthur
Waimea, Hawaii (PRWEB) March 01, 2017
Dodie MacArthur has been in the forefront of Big Island Real estate for over 35 years. She has seen many trends in the marketplace, and at their Annual Awards event Tuesday, February 21st, she honored top real estate agents from her company, MacArthur Sotheby's International Realty. There is much to celebrate, as the past year has seen significant increases in overall sales for the brand, leading to more than $1.1 Billion in sales across the state in 2016.
CEO, Dodie MacArthur – who founded the original MacArthur and Company in 1989 before partnering with Sotheby's in 1991 – says that "2016 was the best year yet for MacArthur Sotheby's International Realty in Hawaii." With over a billion in sales across the state, $205 million on the Big Island, the results are a reflection of the vibrant Hawaiian luxury real estate market and the staying power of the MacArthur Sotheby's International Realty brand.
The MacArthur Sotheby's International Realty Annual Awards event at the Mauna Kea Beach Resort celebrated the company's top producing agents as well as the rich heritage and love of the island reflected in the synergy of the company and its agents.
Her company-wide top producer for 2016, Rebecca Keliihoomalu, R(B), sold over $33 million worth of real estate.
Rebecca attributes much of her real estate success to her prior experience as an entrepreneur. Ultimately, it's her focus on building client relationships, listening attentively and doing her absolute best on every transaction leading to her high rate of client satisfaction.
Rebecca's most significant sale in 2016 consisted of more than 700 acres of former Parker Ranch land valued at over $13 million. This beautiful acreage rests above the Waipio Valley, the 'Valley of Kings', one of the most sacred sites in Hawaiian heritage. It is also home to a Hawaiian cowboy tradition that stretches back to the early1830s.
Dodie MacArthur says, "Rebecca's passion is the Big Island and its unique culture, sharing this with others near and far has contributed to their lives and definitely contributed to her success."
Other top producers for MacArthur Sotheby's International Realty recognized in 2016 are Kathy J. Christiansen, R(B), Adam F. Atwood, R(S), Cindy Griffey, R(S) and Molly Harris, R(S).
On the Big Island, MacArthur Sotheby's International Realty has two offices in prime strategic locations, Kona and Kamuela/Waimea. Each year their agents are recognized in Hawaii Business Magazine's "Top 100 Realtors."Their handpicked team of service-oriented, top-producing professionals consistently achieves record-breaking sales, making their firm a leader in the Big Island real estate market.
Sotheby's International Realty Affiliates LLC broke the news today via CNBC that their affiliated brokers and sales professionals achieved approximately $95 billion in global sales volume for 2016, the highest annual sales volume performance in the history of the brand. MacArthur Sotheby's International Realty is proud to be a part of the international team representing the Big Island.
About MacArthur Sotheby's International Realty
For over 26 years, MacArthur Sotheby's International Realty has served the Big Island of Hawaii as a boutique luxury real estate company offering the best in customer service for distinctive clients. The Sotheby's International Realty network currently has a marketing reach in approximately 880 affiliate offices throughout 70 countries and territories with over 20,000 affiliated independent agents in a global referral program. Each office is independently owned and operated. For more information, visit http://www.BigIslandRealE.com.
For photo and caption: https://www.dropbox.com/sh/35wo6sqqwxdcnnb/AADqBifBRcmxDSBMUCHg9_34a?dl=0