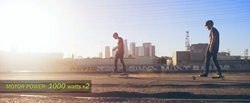 Our goal is to create a product that people will have fun with.
Irvine, California (PRWEB) March 01, 2017
Nuff Boards have launched a Kickstarter campaign to offer a revolutionary electric skateboard at a low price.
The skateboard is designed to embody authentic Southern California skate culture with a high-tech twist. Sporting 2000 watts of power, the board has enough to take the board and its rider up to 24 miles per hour, with a maximum range of approximately 12 miles. Other innovative design features include ergonomic grip handle, a removable battery, a handheld controller, two modes of operation, the ability to interchange decks, and a variety of styles to choose from. NUFF boards also stand out by having a price tag far below that of comparable electric units currently on the market.
"Our goal is to create a product that people will have fun with," Nuff explained. "These boards are great because they can take somebody's commute and turn it into an adventure. Once you ride a NUFF board, you'll be surprised at just how much fun you're having."
The NUFF Kickstarter is live until March 29th, and is the only way to get the 2000 watt NUFF board for the time being.
About NUFF Electric Skateboards
NUFF began from a simple desire to push the limits of skateboard technology, all while keeping one foot firmly planted in the traditional roots of Southern California skateboard culture. Using state-of-the-art technology and simple, ergonomic design, NUFF creates solid, dependable boards that turn any ride into an adventure.
Kickstarter link: https://www.kickstarter.com/projects/646871519/nuff-electrify-your-ride-nuff-said