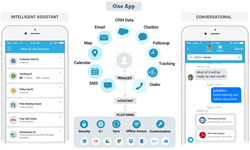 "We aim to impact sales productivity significantly for our customers globally. Work Smarter. Sell More. On the Go. " Devendra Deshmukh CEO e-Zest Solutions
(PRWEB) March 01, 2017
e-Zest Solutions (http://www.e-zest.com) – Digital Transformation leader announces the acquisition of SmarterMe, a personal assistant for sales powered by an intelligent mobile platform that is enabling sales people at small businesses to Fortune 500 enterprises to work smarter.
SmarterMe is built grounds up keeping individual users in mind unlike most enterprise software, to improve their productivity by making personalized recommendation based on integration and analysis of email, calendar, customer relationship management systems (e.g. Salesforce.com), document storage systems (e.g. Box), social media (e.g. LinkedIn) and location date. Features such as one tap logging of calls into CRM, by knowing the full context, allow busy sales professional take back time to sell.
SmarterMe humanizes the enterprise workflow of the individual sales person by replicating a real life personal assistant into the flow of their work – through an intuitive mobile app – that not only increases the productivity of the individual sales representative but also helps enterprises get most out of their CRM and cloud investments.
"SmarterMe is a strategic fit for e-Zest as it aligns perfectly with our mission 2020 of becoming premium digital transformation leader and substantiates our line of offerings to customers across the globe. With cloud delivery and machine learning platform of SmarterMe, built by Silicon Valley entrepreneurs and enterprise software veterans from software and cloud computing leaders like SAP, Hewlett Packard and Salesforce.com, we aim to impact sales productivity significantly for our customers globally," Devendra Deshmukh, CEO said while making this announcement.
"We are excited to join the e-Zest team," said Ashish Srimal Founder & CEO at SmarterMe. He added, "We are very proud of the work we did at SmarterMe and thrilled that the team is going to have access to significant resources to build towards our vision of humanizing enterprise software. By applying intelligence and mobile-first design to power the next generation enterprise software, we will continue to help users get their work done by bringing the right information, the right application just at the right time and in the flow of their work. Together with e-Zest's capability and its experience of working with Fortune 1000 companies we will be uniquely positioned to deliver personalized experiences."
Chief Technology Officer of SmarterMe, Nitin Gupta, commented about the technology roadmap saying, "Future is about bots, virtual assistants and providing alternate user experiences on phone, smart-watch, TV and home assistant devices like Alexa and Google Home. SmarterMe's technology architecture is made capable of handling these near future needs with a few field implementations. Our goal is to make SmarterMe dream app for every sales person" Nitin Gupta has been technology architect of SmarterMe over last few years and has been promoted as CTO recently.
Jigish Avalani, industry veteran with senior executive stints at Microsoft and Concur (SAP) and an Advisory Board Member of SmarterMe prior to its acquisition by e-Zest said, "SmarterMe's acquisition by e-Zest makes a lot of strategic sense as larger enterprise customers require significant customization and integration into their IT systems further driving the value of SmarterMe to their users."
Girish Chandra, Chief Evangelist of e-Zest and Microsoft Technology veteran, spoke about e-Zest's constant quest for IP and innovations to deliver value to customers and how SmarterMe will help e-Zest redefine productivity for sales people.
SmarterMe can be used as a tool integrated with CRM or as a standalone application. It currently integrates with Salesforce and soon its Dynamics 365 & Siebel connector will be available.
Please visit http://www.smarterme.co for more information.