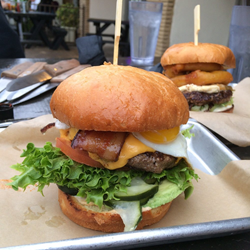 For Burgers, beer and a fun escape, Bun Street is the palce in West Covina
West Covina, CA (PRWEB) March 02, 2017
Bun Street, one of the freshest burger dives in Southern California, was recently featured in the San Gabriel Valley Tribune by Merrill Shindler, a Los Angeles-based freelance dining critic.
Highlights of the visit included comments like "expect to find one of the best burger and craft beer joints in West Covina, a destination well worth seeking out, if your cholesterol is under control, for a platter of tater tot poutine so out of control, it's hard not to laugh (somewhat sardonically) when it lands on the table".
Shindler went on to rave about the Buffalo chicken fries (or tots), the pizza fries (or tots), the Bun Street fries (or tots) and the nacho fries.
Bun Street features a narrowish storefront, with a small outdoor patio, a small bar, and a stretch of tables from front to back. There's a big screen, some chalkboards and a rack of many hot sauces, for you to use as need be. (This on top of the numerous sauces already on the menu!)
The selection of craft beers is good, select, familiar but not so overwhelming that is confusion, like some beer lists. There are lots of soft drinks, offering free refills, including a tasty berry lemonade, and a notably dark iced tea.
The menu is built, first and foremost, around hand-formed, never-frozen top choice Angus beef, a good sized patty. There's also wild Alaskan salmon, grilled chicken, crispy chicken and a house made veggie burger. There's a choice of five buns, including both a terrific brioche, and a ramen bun, made in house.
Further, there's a choice of 12 spreads — including bacon chipotle aioli. There are four cheeses. And seven toppings. There are "Premium Toppings" as well — avocado, applewood smoked bacon, a fried egg and such.
There are nine "Specialty Burgers" as well, including a mac 'n' cheese burger with bacon, and a PB&J burger with bacon. Poutine is a French-Canadian calorie bomb, that's found its way south of the northern border. In Canada, poutine is made with fries, cheese curds and brown gravy. At Bun Street, the cheese is a far tastier mozzarella, and along with gravy, there's duck confit. And putting it over tater tots works wonders. The tots are also tossed with buffalo chicken, with pizza toppings, with bacon and onions, and turned into nachos. Along with notably crunchy onion rings, there are salads — though even the Caesar is char-grilled. The Buffalo chicken salad, with bacon and cheese — sure is good.
Patrons enjoy a good happy hour here, from 3-6 p.m. every day, and all day Monday.