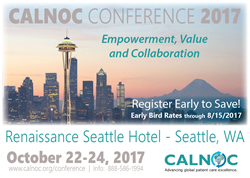 "We are excited to bring this conference to Seattle and invite all participating hospitals to present their latest research, accomplishments, innovations, and improvements in patient care to the entire CALNOC community", said Mary Foley, RN,PhD,FAAN,Chair
San Ramon, CA (PRWEB) February 28, 2017
CALNOC, the nation's first and only nursing quality indicators database today announced abstracts are now being accepted for the upcoming CALNOC Conference in Seattle, WA. CALNOC's 2017 Conference will focus on Empowerment, Value and Collaboration as hospitals strive to provide safe high quality patient care. CALNOC's conference will be held on October 22-24 in Seattle, Washington at the Renaissance Seattle Hotel.
"We are excited to bring this conference to Seattle and invite all participating hospitals to present their latest research, accomplishments, innovations, and improvements in patient care to the entire CALNOC community", said Mary Foley, RN, PhD, FAAN and Chair of the Board for CALNOC.
CALNOC is seeking abstracts which focus on transforming care delivery during the current chaotic scene of healthcare reform. Abstracts will be carefully reviewed and authors will be invited to share innovative projects and practices through poster and panel presentations that advance patient care improvements. The highlight of each conference is when hospitals share their improvement journeys and best practices which attendees can then take back for immediate implementation into their own practice environments.
For more information about the 2017 CALNOC Conference and how to submit your abstract, visit the CALNOC Conference website. http://www.calnoc.org/conference The deadline to submit an abstract is March 31, 2017.
About CALNOC
The Collaborative Alliance for Nursing Outcomes (CALNOC), is the leading provider of Business Intelligence, and Research on nurse sensitive quality indicators. CALNOC serves as the nation's only nurse sensitive registry owned, managed, operated and designed by nursing. Always on the forefront of patient care excellence, CALNOC created the first database registry of nurse sensitive indicators which turns data into powerful information for hospital executives to guide decisions to advance global patient care excellence. CALNOC is a non-profit 501 (c) (3) public benefit corporation with headquarters in San Ramon, California. For more information, call 888-586-1994 or visit http://www.calnoc.org