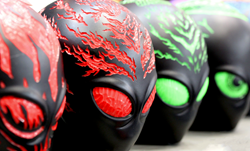 Carving your own design is a truly satisfying experience, and it's really not hard to end up with an amazing creation. That's why these are perfect even if you have never done anything similar before.
Seki, Japan (PRWEB) March 02, 2017
Yoshiharu Cutlery, a noted manufacturer of world class cutlery items, is all set to expand their product offerings to a new direction with the upcoming launch of their SofViCK Alien Toy Figures. This new product will make it possible for anyone to create their own aliens and bring them to life. The company has just started a Kickstarter campaign to raise $10,000 to meet the expenses related to the launch of this product. It may be recalled that Yoshiharu Cutlery's previous Kickstarter campaign was a huge success story for the company.
SofViCK stands for Soft Vinyl Carving & Knives, and is comprised of vinyl alien heads that can be carved without any limitations by the owner with the help of Yoshiharu Cutlery's specially designed carving knives. The entire process is extremely simple, and can be accomplished without any previous experience or specialized skills in carving. To guide the users, Yoshiharu Cutlery will also offer a selection of tutorials in both video and PDF format. The product has already been tested with encouraging response from the alpha testers.
Discussing the company's thoughts behind coming up with this new product, a senior spokesperson from Yoshiharu Cutlery stated, "While we could just create the carvings ourselves and sell the finished alien head toys as products, we thought it was much more satisfying to allow you to create your own designs. That way, your alien figure is completely unique to you."
Some of the most important features of SofViCK include

Utilizes the highest-quality vinyl that has been designed to be carved out into patterns
Tutorials in video and PDF format
Different types of knives for creating different designs on the eyes, forehead, face, etc.
Available in three basic and two exclusive colors
Suitable for ages fourteen years and above
With adequate funding via Kickstarter, Yoshiharu Cutlery is looking to start the production of SofViCK from the month of May. All proceeds from this campaign will be spent to manage the expenses leading to the product's initial production run. The company is offering lucrative perks to all Kickstarter backers.
To make a contribution to this campaign, please visit https://www.kickstarter.com/projects/403476566/sofvick-create-unique-alien-figures-no-experience?ref=bjrfzr.
More about SofViCK can be found at http://www.sofvick.com/
About Yoshiharu Cutlery: Yoshiharu Cutlery Co., Ltd. is a Japanese company that was founded in Kyoto over 100 years ago. 40 years later, they moved to Seki City, known as one of the world's largest cities for cutlery production. The company's main products are chisels for school children, scissors, and meat tenderizers.