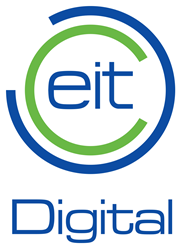 Brussels, Belgium (PRWEB UK) 28 February 2017
Artificial intelligence, data analytics, digital signage. Three innovative companies, one scaleup and two spin-offs supported by EIT Digital will be showcasing their latest retail tech innovations in this fields at the upcoming EuroShop 2017 trade fair.
EuroShop will be held in Dusseldorf, Germany from March 5th to 9th. With its 120,000 square metres of space and 100,000 expected visitors, it's considered to be the world's leading retail business event.
The three companies participating in the show all sit within EIT Digital's Digital Industry Action Line and form part of its Industry Business Community. They are Spanish scale up Exipple, Swedish firm Selitera (a spin-off from KTH's Mobile Service Lab in Stockholm), and the Italian, Trento-based firm ThinkIn.
Exipple's vision is that spaces and devices will become intelligent so as to understand and anticipate people's needs. Therefore, the company has developed a solution, Gestoos, which focuses on computer vision and human-technology interaction.
Via natural gestures, users will be able to interact with advertising content to explore products in a more human and intuitive manner, making the solution a perfect fit for hyperlocal advertising.
"The implementation of Gestoos in Retail requires the participation of digital contents agencies and infrastructure suppliers, so we think EuroShop is a great place to be to identify and align with these players," Exipple's CEO, German Leon says.
Selitera's product, Klikify, developed in close cooperation with Philips Pro Displays and Hypsos Digital Experiences, is aimed at connecting the physical store with the customer's digital experience on his or her smartphone. "Klikify is a transformational, game-changing retail marketing technology which will make store visits much more attractive," the company's CEO, Zary Segall, says.
Thanks to its Digital Signage technology, with just one click visitors will be able to see, share, purchase and bookmark unique commercial content.
Finally, ThinkIn's offering, RetailerIN, provides an advanced in-store behaviour analytics solution for monitoring people and assets in real time, analysing data and transforming it into actionable business indicators.
"To survive in the digital century retail needs to embrace IoT, big data and AI," CEO Iacopo Carreras explains, "EuroShop provides us with a unique opportunity to meet with prospective customers (retail chains and stores) and with partners willing to work with us to change the retail market in Europe."
The three EIT Digital-supported companies will be showcasing their innovations in EuroShop hall 7 (Retail technology).
About EIT Digital
 
EIT Digital is a leading European open innovation organisation. Our mission is to foster digital technology innovation and entrepreneurial talent for economic growth and quality of life in Europe. We bring together entrepreneurs from a partnership of over 130 top European corporations, SMEs, start-ups, universities and research institutes.
 
EIT Digital invests in strategic areas to accelerate the market uptake of research-based digital technologies and to bring entrepreneurial talent and leadership to Europe. Our innovation and education activities are organised in and around our co-location centres, where students, researchers, engineers, business developers and entrepreneurs come together to drive the digitalisation of society.
 
EIT Digital is a Knowledge and Innovation Community of the European Institute of Innovation and Technology (EIT). Since 2010, EIT Digital has consistently mobilised talent, ideas, technologies, investments and business across Europe and beyond to stimulate disruptive digital innovation. EIT Digital headquarters are in Brussels with co-location centres in Berlin, Budapest, Eindhoven, Helsinki, London, Madrid, Paris, Stockholm, Trento and a hub in Silicon Valley.