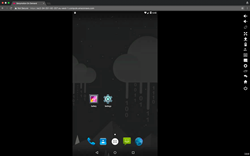 With Genymotion On Demand, enterprises can develop new solutions on top of Android in the cloud, or extend their own solutions into the cloud, while only paying for actual usage.
San Francisco, USA and Paris, France (PRWEB) February 28, 2017
Genymobile, the leader in Android virtualization solutions for the Enterprise, today announced the recent appointment of Benoit Bergeret, effective December 21, 2016, as Chief Executive Officer. A veteran of the mobile industry, Bergeret brings extensive experience in developing and growing mobile software and technology businesses globally, operating from Europe then Silicon Valley, where he has been residing since 2006.
"I am thrilled at the opportunity to lead the Genymobile team through a new phase of growth and expansion, fueled by the outstanding technologies the team has dreamt and developed", Bergeret said. "Our Android cloud virtualization products are opening up extraordinary new opportunities for mobile-first enterprises and mobile app vendors. Genymotion is now impacting not only their bottom line with the efficiency gains it brings to the app delivery process, but also their top line, as it enables new revenue streams."
The company is also announcing the immediate availability of Genymotion On Demand, a full Android operating environment running on instances on Amazon Web Services and billed per hour. With Genymotion On Demand, enterprises can develop new solutions on top of Android in the cloud, or extend their own solutions into the cloud, while only paying for actual usage.
Genymotion on Demand has been developed with enterprise use cases in mind. Our team was able to shrink the cloud platform to fit a full Android environment in each virtual device; they have implemented a full, unrestricted user/physical interaction stack; all Android API interaction widgets; and have included full, high-speed custom 3D rendering stack in a web browser window, which can auto-adapt to the performance of the underlying AWS instance.
"We have brought to AWS the same robust technology that made Genymotion so popular. With Genymotion, we have met the needs of over 5 million Android developers, and counting" said Arnaud Dupuis, co-founder and CTO. "We are now meeting the needs of the thousands of corporations who have made mobile apps the backbone of their future business, but who are slowed down by sub-optimal development, testing, integration, support and collaboration technologies."
With Genymotion On Demand, enterprises can manage virtual Android devices just like any other operating environment in a cloud setting. Any Android app can be launched from a web browser, only paying for actual usage, without long term contractual commitments. Apps can be launched in a web page, such as in an ad banner, or in "kiosk" mode. Android virtual devices can be cloned, scaled and automated. Apps can connect to Android virtual devices on AWS via ADB activated through specific settings by issuing ADB calls locally, and seeing those executed on virtual devices that are on AWS.
Based on market feedback gathered from the recent early roll-out of Genymotion On Demand, we expect enterprises to primarily use it for:
BYOD / Virtual Mobile Infrastructure (VMI)
With Genymotion On Demand, only one app 'master' is used across all devices (Apple iOS included), and resides in the cloud, not on the devices themselves. Benefits include better security (no data is stored on the phone), streamlined mobile app management, lower support costs, completeness of deployment, no more difficult upgrade campaigns.
Help desk / mobile app customer support
Customer service representatives who support mobile app users can now just pop a virtual Android device into their web browser that precisely matches the phone type the caller is using, thus reducing support call duration, increasing quality of the interaction, and avoiding the costs of having to stock up with physical devices.
Apps benchmarking / stress testing
In order to prevent damaging load-induced mobile app crashes, enterprises use Genymotion On Demand to generate a massive number of users concurrently active on the mobile app by spinning a large number of virtual devices in the cloud, and measure the system's response to this load. All virtual devices are shut down after the test is performed.
Mobile Application Security Testing
Companies deploying mobile applications are facing increasingly sophisticated threats that require complex testing. Using Genymobile On Demand, they can make sure their apps and data security is complete, efficient, well implemented, and relevant to the current threat levels, without having to test on physical devices, thus saving testing cost and time and accelerating apps deployment.
Mobile Threat Defense (MTD)
Genymotion On Demand can be used by enterprises implementing mobile threat defense strategies to defend mobile applications from advanced threats. Using only virtual devices and scripts simulating user activity, Genymobile On Demand simplifies the setup and operation of mobile threat defense systems by removing the need to use physical devices and actual users.
Applications Performance Monitoring
Businesses that want to reduce the opportunity cost of losing unsatisfied users due to poor performance of their mobile applications when services are altered by bugs or lack of performance. To detect and/or prevent this, Genymotion On Demand enables end-to-end testing strategies by making it easy to use mobile apps in multiple concurrent scenarios to test back-end applications and services.
Online advertising of mobile apps
Using on-demand Android virtual devices, mobile apps can be served and used inside displayed ads for on-the-spot testing, without APK download or install, thus increasing conversion rate.
Ad campaigns A/B testing - competitive analysis
To assess the effectiveness of a mobile ad campaign vs. a competing campaign towards different target groups of users or potential customers, agencies can simulate on the virtual device the app user journey and collect data about displayed ads, for various cohorts of users with predefined behaviors and usage profiles.
Genymotion On demand is offered in three versions:

Runtime, for simple apps not requiring a GUI
Pro, to run mainstream Android apps
Performance, for those apps with intense graphics UIs
Genymotion On demand usage is priced per hour. Although we make recommendations for certain AWS instance types for each version, the choice of the AWS instance to run the Genymotion On Demand virtual device on is left to the user.