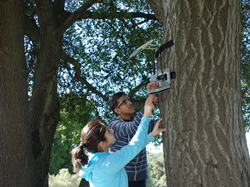 Cupertino, California (PRWEB) February 28, 2017
Climate change is producing hotter, drier conditions in the American West, which contribute to an increased number of large wildfires and longer wildfire seasons. Past fire suppression and forest management practices have also led to a build-up of flammable fuel wood (biomass), which increases wildfire risks.
The expense of fighting wildfires and protecting life and property from harm is nearly four times greater than it was 30 years ago and has exceeded $1 billion every year since 2000.
Other costs, including the impact on public health, property, ecosystems, and livelihoods, are significant, often far exceeding firefighting costs.
Deeply concerned by the huge loss of our most precious forests, two California sophomores from Monta Vista High School, Cupertino Aditya Shah and Sanjana Shah designed and built a Smart Wildfire Sensor device that can sense, reason, and act to prevent wildfires.
This device can be used in a synchronized network of sensors to predict and prevent wildfire in a forest. The device uses the machine-learning algorithm to identify volume and nature of biomass accumulated in a forest area. The device eliminates the need to physically visit forest areas to collect samples of dead fuels and classify them manually.
The Smart Wild Fire sensors provide 92% accuracy in predicting fires. The analysis phase maps the images of accumulated biomass in real time.This data in conjunction with other environmental factors like weather, wind, air-quality predicts level of fire hazard accurately.
This device uses Google's TensorFlow Neural Network to analyze the captured images in machine-learning phase. This solar powered device is designed to consume minimal power for prolonged battery life and LoRa (long range) low power wireless platform to cover the vast forest areas where GSM signals may not be available.
This device is extremely useful to predict and prevent wildfires in the remote terrain where human access is often difficult.
Aditya and Sanjana strive to make the best use of technologies and talent available in the Silicon Valley to prevent wildfire and save forests. Aditya said, "right now we are failing to manage this mounting risk effectively. We must make better use of our knowledge and resources to more effectively manage wildfire risks and prepare for the growing consequences of climate change.
Lack of awareness in the majority of youth about the environment is the another concern expressed by Sanjana and Aditya. They are trying to motivate the students through a team effort of Monta Vista Green Society mentored by teacher and environmentalist Mr. Andrew Goldenkranz.
The next phase of their dream to prevent wildfires includes use of autonomous vehicles equipped with all critical sensors crawling close to the ground sensing fire hazards and drones with similar capabilities scanning the forests from the sky.
Sanjana Shah is a strong promoter of STEM education for the girls. She is the winner of 2015 Presidential Youth Award for her innovative flood sensor project.
Sanjana Shah received a national award from National Center for Women and Information Technology (NCWIT) for her Aspirations in Computing Competition. Sanjana will be one of 50 young women who will receive a National Award from NCWIT in North Carolina on March 3rd.
Aditya Shah & Sanjana Shah are the Conrad Spirit of Innovation Challenge finalist for the 2017 innovation summit. They will participate in the finals of this prestigious competition at Kennedy space center, Orlando in April.