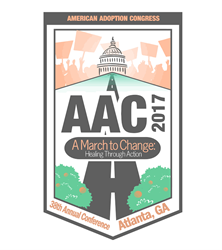 This conference is perfect for both parents and professionals
Atlanta, Georgia (PRWEB) March 02, 2017
In an effort to promote compassion, understanding and empathy of the life long impact of early life adverse experiences the American Adoption Conference will be host to over 35 workshops, 6 keynote speakers, a film documentary and two award winning plays. The conference offers an immersive look into this unique community and the complex issues faced by the adoption and foster constellation.
Featured keynote addresses from Dr. Ruth Mcroy, the University of Texas, School of Social Work, Chief Clinical Officer, Mr. Rob Gent of Calo Programs, Genealogist Blaine Bettinger, therapist Dr. Chiatra Wirta-Leiker and adoptee/therapist Kathy Mackecheny. The conference is three days and includes over 35 break out sessions, as well as, keynote performances by Amy Mihyang Ginther and Alison Larkin who share their life journeys and reunion experiences.
Other workshop topics cover a variety of issues for those who have created families in adoption and assisted reproduction, including DNA, search and reunion, trans-racial and international experience, loss and trauma, adoptee, birth/first parent, adoption parent issues, historical perspectives, ethical and clinical practices, identity issues, and legislative efforts to open sealed records. Workshops will be geared toward National Association of Social Worker Continuing Education Credit (CEU's) and twenty-two CEUs will be available for attendees. To learn more about the conference go to; http://www.americanadoptioncongress.org/2017_conference_at-a-glance.php.
About AAC
Since 1978, the American Adoption Congress has been comprised of individuals, families and organizations committed to adoption reform. AAC represents those whose lives are touched by adoption or other loss of family continuity. For more information, visit American Adoption Congress at http://www.americanadoptioncongress.org, Facebook at https://www.facebook.com/pages/American-Adoption-Congress/295448907951 or follow them on Twitter at https://twitter.com/aac1978.
For additional information please contact American Adoption Congress Conference Advisor Cynthia McGuigan at aacconferencechair(at)gmail(dot)com.