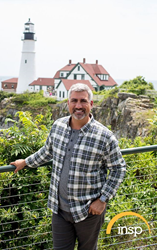 Indian Land, SC (PRWEB) February 28, 2017
INSP Announces Destinations for Season 2 of State Plate
New Episodes of the Award-Winning Culinary Travel Series, Hosted by Entertainer Taylor Hicks, to Premiere This Summer
Family-entertainment network INSP has released its destinations for season 2 of State Plate, its award-winning culinary travel series hosted by platinum-selling entertainer and former American Idol™ winner Taylor Hicks.
"After much contemplation and deliberation, which included looking at viewer emails, calls and countless social media posts, we have determined we will feature the below states in this next season," said Doug Butts, Senior Vice President of Programming at INSP:
Mississippi
Alabama
Vermont
New York
Missouri
Iowa
Minnesota
South Dakota
Pennsylvania
Maryland
Oregon
Washington
In the new season, Taylor Hicks will once again embark upon a captivating tour to assemble a plate of that state's most emblematic foods. Along the way, he will visit farms, ranches, markets, festivals and other diverse locales in order to uncover the stories and legends behind their unique food traditions.
"It's been very exciting to see and hear comments from our viewers, especially from those who have lobbied hard to have their own state's culinary heritage featured," continued Butts. "With so much great food and history to explore, narrowing the list down to 12 was difficult, but we are confident that what we have selected will offer up a heaping helping of unique cuisine that is both rich in history and flavor."
RIVR Media continues as producer of State Plate and they plan to begin shooting new episodes this spring. The series is scheduled to premiere on INSP in late summer 2017.
For additional information, please visit http://www.stateplatetv.com.
About INSP
INSP is available nationwide to more than 81M households via Dish Network (channel 259), DirecTV (channel 364), Verizon FiOS (channel 286), AT&T U-verse (channel 564) and more than 2,800 cable systems. Click here to find INSP in your area. For quality dramas, positive entertainment and inspiring stories, celebrating the American spirit and honoring timeless values, it's INSP.
About RIVR Media
RIVR Media is an American-based TV production company, specializing in reality, documentary and digital programming. RIVR has produced over 2000 shows for 21 cable networks including such series as Renovation Realities, Escaping Polygamy, Trading Spaces, Whale Wars, and Fat Guys in the Woods, to name a few.
About Taylor Hicks
Taylor Hicks is one of the most beloved and popular American Idol winners of all time. From the start, Hicks' material on the mega-hit show set him apart, with a unique take on Country, Southern Soul, R&B and Blues. Sixty-four million votes were cast and nearly 37 million American viewers and more than 200 million viewers worldwide tuned in to crown Hicks the Season 5 winner of American Idol, making it one of the most-watched TV events of the last decade. Hicks' star continued to rise after he stepped off the Idol stage. Less than three weeks after his Idol victory, his debut single, "Do I Make You Proud," entered at No. 1 on Billboard's Hot 100, Pop 100, and Single Sales Charts. His self-titled album (Arista), debuted at No. 2 on the Billboard 200 and was quickly certified RIAA Platinum. Hicks is the first male Idol winner to be featured on a Grammy Award-winning album, Jimmy Fallon's "Blow Your Pants Off," which took home the 2013 Grammy for Best Comedy Album. Hicks' career has included stints on Broadway, a national tour with a hit musical, as well as headlining Paris, Las Vegas and other Caesars Entertainment properties all over the United States. In 2017, Taylor will release a new single and album; and will go on a nationwide tour.
CONTACT
Tara Brown
tara.brown(at)insp(dot)com
803-448-2698