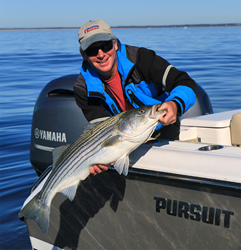 Hyannis, MA (PRWEB) March 02, 2017
One of Lighthouse Media Solutions' newest TV shows airing on NESN explores New England's unique fish species, fishing destinations and fishing lifestyle, while also delivering solid technical advice on how, where and when to catch more fish.
The latest venture from LMS capitalizes on its highly successful, annual publication—New England Fishing magazine, which has a similar focus. New England Fishing TV airs on the New England Sports Network (home of the Red Sox and Bruins), and past episodes can be viewed on NewEnglandFishing.com. New England Fishing TV now joins the LMS-produced New England Boating TV, which also airs on NESN.
"I'm obviously excited about this show," said Tom Richardson, co-producer, writer and host of New England Fishing. "Having grown up in New England and fished the region since I was 5, I know how much it has to offer. I mean, where else can you live-bait tuna and fly-fish for trout in Maine on the same day?"
Richardson said the show is designed to be different from other fishing shows.
"Our focus is on the entire fishing experience—the adventure, the location, and the people who make it special," Richardson said. "Most of all, it's about having fun and enjoying the water."
Episode 3 of the show aired Monday, Feb. 27, and featured an adventure in Pittsburg, NH, with guides Greg Inglis and Bill Bernhardt of Lopstick Outfitters. Richardson and crew enjoyed productive fly fishing amid spectacular autumn foliage.
"Our newest TV show really captures the beauty, fun and lure of fishing in New England," said Russell Piersons, president/CEO of Lighthouse Media Solutions. "Tom brings his unique expertise and experiences to the show as host and producer."
New England Fishing, sponsored by GMC and Pursuit Boats, includes 13 episodes per season and airs Monday nights at 6:30 on NESN. NewEnglandFishing.com also features past episodes of the show as well as news, tips and relevant information about fishing the region.