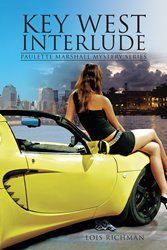 Palm Beach, Fla. (PRWEB) March 06, 2017
Love, divorce, revenge and murder are the focal point in one author's new novel. In "Key West Interlude," by Palm Beach-based author Lois Richman, readers will watch as one woman struggles to get over a divorce while building a new life at the same time.
'Interlude' is the first novel in Richman's "The Paulette Marshall Series." Fresh off her divorce, Paulette Marshall packs her life up and moves from Bel Air, Calif., to exotic Key West, Fla. to start fresh. However, after witnessing the murder of a wealthy boat captain in Key Largo, Marshall quickly gets more than she bargained for. What's more, after becoming a high school counselor, Marshall meets Ariel, the heir to the captain's throne. From there, Marshall is thrown into the underground world of Key West.
Richman wrote 'Interlude' for several reasons. "I want women in particular to know if their life situation changes, they are capable of beginning anew," said Richman. "Whether you're divorced, widowed, or have your husband leave you for a younger woman, as was the case with Paulette."
Richman has been writing professionally for several years. She began her career as West Coast editor for a Marvel Comic Books company. From there, her work has been featured in Ladies Home Journal, Redbook and several additional Hollywood publications.
An intense page-turner, "Key West Interlude" follow's one woman as she moves across the country following a divorce, where she is forced to discover who she truly is. For more information about Lois and "Key West Interlude," please visit http://loisrichman.com/.
"Key West Interlude"
By Lois Richman
ISBN: 978-1-5246-51886 (softcover); 978-1-5246-51893 (hardcover)
Available at AuthorHouse, Amazon and Barnes & Noble.
About the Author
Lois Richman is a writer currently living in Palm Beach, Fla. immediately after graduating high school, Richman became an editor for several west coast women's magazines, honing in on her craft.
###
Review Copies & Interview Requests:
LAVIDGE – Phoenix
Chris Peña
480-998-2600 x 519
cpena(at)lavidge.com
General Inquiries:
LAVIDGE – Phoenix
Bryan Beach
480-998-2600 x 510
bbeach(at)lavidge.com