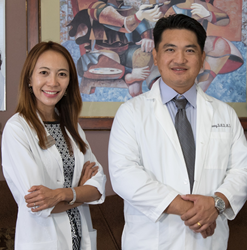 Las Vegas, NV (PRWEB) February 28, 2017
Drs. Allen Huang and Victoria Chen were recently guest lecturers at the Nevada Dental Hygienists' Association House of Delegates and Professional Continuing Education (CE) course in Las Vegas. The doctors covered topics such as orthodontics for periodontal disease patients as well as leading gum grafting alternative, the Chao Pinhole® Surgical Technique. Drs. Huang and Chen, skilled Las Vegas, NV periodontist and orthodontist, respectively, practice at their state-of-the-art facility, Significance Dental Specialists.
One primary topic during Dr. Huang's lecture was the Chao Pinhole Surgical Technique, or PST™. This revolutionary procedure has transformed how periodontists approach receding gums. He showed how applying the technique to gum recession cases can reduce the need for invasive procedures, reduce discomfort and also minimize healing time. Performed using only a small hole in the gums, patient's gums can be gently repositioned to a healthy, more attractive, position over the teeth. No sutures are required, minimizing discomfort during and after the convenient procedure.
Dr. Huang joined Dr. Chen to discuss how an orthodontist can approach treating patients with gum disease. Through this interdisciplinary approach, the doctors showed that despite the particular struggles that patients face while experiencing periodontal disease, such as gum recession, deep periodontal pockets and loose teeth, it does not necessarily make them unsuitable candidates for qualified orthodontic treatment.
Drs. Huang, Chen and their team at Significance Dental Specialists, offer a variety of highly-trained periodontal and orthodontic treatments including Invisalign®, dental implants, root canals and minimally invasive gum disease treatment using the latest dental technology. This multi-specialty team of doctors also frequently lecture in their community and host their own seminars and CE courses to ensure doctors provide the latest techniques to patients.
Periodontal patients interested in learning more about treating their receding gums with PST, starting orthodontic treatment or receiving leading gum disease treatment, can contact one of Significance Dental Specialists' four convenient office locations. More information on the benefits of specialized treatment by an orthodontist or periodontist in Las Vegas, NV can be found on Drs. Huang and Chen's website at http://www.sdsdental.com.
About the Practice
Significance Dental Specialists is a multi-specialty practice offering cutting-edge, experienced periodontal, orthodontic and endodontic care for patients in four convenient locations in Las Vegas, NV. Dr. Allen Huang is a co-founder and CEO of Significance Dental Specialists, a renowned speaker, author and business strategist and a board certified periodontist. Dr. Huang is also the CEO of his own dental implant company, Altosbiotech, LLC. Dr. Victoria Chen, a co-founder and CEO of Significance Dental Specialists, is also a respected lecturer, author and orthodontist, offering the latest, innovative orthodontic care. Dr. Jeffrey Wang is a board certified periodontist and implant specialist and is committed to restoring and maintaining health while improving the aesthetics of the mouth. Dr. Vinnie Chen, a co-founder of Significance Dental Specialists, is a board certified endodontist and active member of numerous professional organizations including the American Dental Association and American Association of Endodontics. To learn more about the services Drs. Huang, Wang, or Chen provide at their four office locations please visit their website at http://www.sdsdental.com or call 702-547-9977 for the Apache Road office, 702-733-0558 for the Harmon Avenue location, 702-233-9988 for the Cascade Valley office or 702-647-8114 for the Craig Road location.