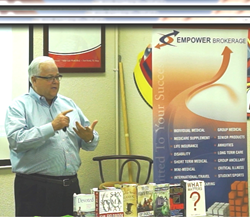 When an agent knows their game plan, they are better able to reach their goals.
Southlake, TX (PRWEB) March 02, 2017
Empower Brokerage, a national insurance FMO, announces a new exciting online training course for independent life and health insurance agents across the country. This Medicare Supplement sales mastery course is called Performance Partners. Performance Partners is an invitation-only training course designed for brokers who are dedicated to excellence in selling Medicare Supplements.
Empower Brokerage CEO, Rodney Culp says, "Our new initiative at Empower Brokerage is to identify top performing agents, and those with the aptitude to become top performers. Then, we give them sales leads, advanced training, tools, resources, materials, and accountability by a veteran mentor. Together, all these components help bring out the best in agents."
Performance Partners is hosted by John Shinn, a Senior Product Specialist at Empower Brokerage. Shinn has worked in Medicare insurance for 35 years, and is looking to spread his expertise to agents. Shinn started conducting these classes live a few years ago. They soon became so popular, Empower Brokerage CEO, Rodney Culp, asked the marketing department to create an online course so more agents could benefit from John's teachings.
This series is divided into 10 modules. The first four modules focus on the theory of selling; Preparation, Prospecting, how to conduct an effective Presentation, and the best way to structure Product offerings. These modules help the agent to envision a tried and perfected blueprint for selling Medicare Supplement products. John Shinn says, "When an agent knows their game plan, they are better able to reach their goals."
There are 5 carriers' products identified throughout the course. The carriers are Cigna, Renaissance, Aetna, Omaha, and Medico. Shinn chose these carriers based on their proven financial strength, the quality of their product, and the ease of doing business with them. Their products also cover the whole mix of possible clients, from turning 65 through higher age brackets; those with health conditions and those without. The final module focuses on how to sell online. Selling online has become more popular among agents as it saves time, and can be more accurate. This module is full of tips on how to effectively sell Medicare Supplements in a new way, which allows a quality agent to help more people in a shorter time, any state in the country in which they are licensed. It ends up being better for both the agent and the consumer, because at the core of the training class is the use of a national carrier rate search to find the best possible price for coverage.
The creation of this course is rooted in specialists wanting to increase agents' competency and confidence. Shinn says, "Agents who are interested in enhancing their overall performance should take Performance Partners. Their competency and confidence levels will rise, so their activity also rises, which will inevitably lead to their success." The main goal with the Performance Partners class is to improve everyone's experience and productivity. Then, provide them with leads to bolster their efforts.
Marketing Director Bill Bronson, who helped organize the course, says, "Since independent agents can join Empower Brokerage free of charge, and receive the best educational and support experience of any FMO nationwide, the company feels courses like this are well worth the expense and effort. I hope this will help draw agents to contract through us, and allow us to help them make the most of their careers. In the future, we will expand Performance Partners into our other product channels."
For More Information:
https://empowermedicaresupplement.com/
https://empowermedicareadvantage.com/
https://www.empowerhealthinsuranceusa.com/