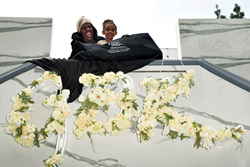 Beverly Hills, California (PRWEB) March 01, 2017
Top guests included: The real Oscar winner of Best Picture, Director of "Moonlight", Barry Jenkins; Winner and many of the cast; Best Support Actress Winner, Viola Davis; Winner – "SING" (Director Kristof Deák); Winner – "La La Land" (Composer Justin Hurwtiz); Winner – "OJ: Made in America" (Director/Producer Ezra Edelman & Producer Caroline Waterlow). Numerous others also attended from "Hidden Figures"; "Arrival"; "Hell or High Water"; "Fences"; "Zootopia"; "Lion"; "Kubo & The Two Strings", "Life", and "20th Century Women".
Other special guests included, Miles Teller, Haley Lu Richardson, Anthony Anderson, Dule Hill, Randy Jackson, singer/song writer, Jake Miller, and many more.
This event took place at a $25 Million Estate in Beverly Hills, which James Harris from The Agency helped secure. There were a few attendees that were even interested in potentially purchasing this property. Artwork throughout the house was provided by, Tracey Keilly. Her art is a complex, elegant study of the political, social and psychological, used to create a wordless conversation. Aly Daly, a boutique design agency specializing in luxury interior design, set up a lounge in the living room and gifted consultations.
This year the two causes that benefited from this event were the Sugar Ray Leonard's Foundation, committed to funding research and creating awareness for childhood type 1 & 2 diabetes and to help children lead healthier lives through diet and exercise, and Reach Up Reach Out, a non-profit helping Ugandan orphans and widows, in hope of offering them a better future, from an Arts camp, to Widow and Vulnerable Women Business School Scholarship. In addition to that, GBK made another wish come true by treating a Make-A-Wish child like a celebrity for the day.
The Highlight of the Event was Il Palato, and Michelin Star Chef Fillipo Sinisgalli, who is quickly turning into the go-to chef for many of the stars. They not only showcased many of their top products, including the best pasta and a variety desserts, but they also offered all guests the opportunity to bring Italy to their home, with a certificate valued over $10,000. Of course, one needs a little vino with their food, so Heitz Cellars & Moraga Vineyard provided their top of the line wine. If wine wasn't enough to ease the stress of the weekend, 4 Copas Tequila - The Original Organic Agave Tequila made amazing margaritas and gave out shots to those inclined. That said, many asked for seconds. After the celebrities indulged in the goodies, they had the opportunity to partake in a massage from the top spa in Southern California, Burke Williams. Burke Williams also provided certificates to visit their brand-new Spa in West Hollywood. After a massage, everyone says you needs to drink lots of water, so Earth Water was there with the greatest water on Earth, composed of up to 70 Trace Minerals and +9ph. It was a bit cold outside, so many were in the mood for Snarky Tea, a strong tea for strong women. They also gifted their Snarky Bouquet which included six of their delicious and diverse blends.
To keep the celebrities fashionable and ready for the Red Carpet, there were gorgeous bracelets with diamonds and various other stones by BOPULENT Jewelry, and GuiltySoles was their providing high quality, fashion forward footwear at a guilt free price for the women, while Tucci Polo had their elegant shoes for Men. Meza Dental, a high end Cosmetic Dentistry Centre located in San Jose, Costa Rica, dedicated to providing exceptional dental care, made sure the celebrities were pearly white by gifting their whitening kit. Most importantly, Jiusko USA, wanted make sure the celebrities were on time for the festivities and looking good, so they provided everyone with their Luxury Timepieces, manufactured in China with precision, quality parts. For the day after, when the ladies don't want to do their hair again, Maria Shireen provided chic bracelets designed to also be used as beautiful hair ties to put their hair back, or American Hat Makers was providing another option with their stylish handmade leather hats. They could also throw on vintage inspired pieces from Demure 31, a chic modern line owned by sister duo Elle and Alyana. Pure Seduction, is a premium underwear store from New York, and Berlin made it out to Hollywood, to the celebrities liking.
As many of the talent will need to send out numerous thank you notes, Hallmark was on hand with a variety of their Signature Cards featuring the best Hallmark has to offer, with their unique and upscale cards that make an immediate impression. For those that want to add a little something special, Pixels, a global marketplace for artists, photographers, and the world's most iconic brands, where art comes to life was present with gift cards to choose anything of their liking as well as a weekender tote bag, and round beach towel.
The Celebrities in attendance were excited to receive a wide variety of other gifts too. Many were pleased to know that their certificate to improves one's credit from Credit Accelerator valued at over $1,000 was transferable, to help someone that might be a bit more in need. Many were excited to receive Argan Oil Ultimate Gold Hair Care set, a complete professional hair care set for dry and damaged hair. They literally were saying how much they needed a quality product like Luseta Beauty. For those that want to try a new upscale salon on Rodeo Drive, Karma Salon offered a certificate for their choice of permanent makeup, eyelash extensions, Daith piercings (which provide relief from migraines and frequent headaches) and if they were adventurous, body piercings or tattoos. SoundBot was there with their Bluetooth Wireless Premium Portable Speaker delivering Exhilarating High Definition Sound Quality and DJ Tony Martinez with The Rich Group kept the beat going throughout the day with his clever mixes. Lastly, no gift lounge is complete without a couple vacations to give the nominees and presenters a well-deserved vacation. Swanky Resorts, a Luxury Travel magazine that encourages people to travel outside the obvious, gifted a choice of properties in Portugal, from four different 5-Star properties in the Algarve's. The other option was The Retreat-Costa Rica is a resort to escape the chaos and stresses of their lives and take an opportunity to reset their internal sense of balance in a nurturing and gentle environment.
# # #
ABOUT GBK:
GBK, formerly GBK Productions, is a luxury lifestyle gifting and special events company, specializing in entertainment marketing integration. Formed in 2000 by Gavin Keilly, the company's Founder and CEO, GBK consists of five divisions: GBK Celebrity Gifting, GBK Special Events, GBK Weddings, GBK Charitable Consulting and GBK Marketing/Public Relations. Widely known in the entertainment industry for bringing that little extra something into the Gifting Lounge environment, GBK offers its clients a full range of marketing services. For more information on Gavin B. Keilly (CEO) or GBK, please go to gbkproductions.com.