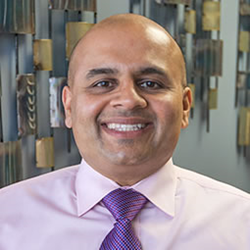 Schaumburg, IL (PRWEB) February 28, 2017
New patients in need of orthodontics can now receive Invisalign® in Schaumburg, IL, from Dr. Jignesh Patel, with or without a referral. Dr. Patel received his orthodontic certification in 2009 and is highly-experienced in providing leading orthodontic care. Patients who want to receive both general and cosmetic dentistry from the same practice are encouraged to meet with Dr. Patel for a convenient consultation.
Invisalign clear braces provide individuals who have crooked teeth with an alternative to traditional braces. Dr. Patel, a leading provider of orthodontics and a Preferred Provider of Invisalign in Schaumburg, IL, recommends this treatment for those who desire discreet orthodontic care. Clear braces are often requested by teens and adults who want their teeth to be straightened with one of the most comfortable and subtle methods available. Invisalign aligners have smooth surfaces that do not get caught on the sensitive tissue of the cheeks and lips, and are frequently unnoticed by patients' friends and family.
Invisalign can be used to correct a variety of issues, including crowding, crooked teeth and space issues. Approximately every two weeks, the patient's current aligners are switched out with new, custom aligners that continue to gently shift the teeth into the correct positions. For best results, clear aligners should be worn around 22 hours per day, or according to Dr. Patel's specific instructions. They can be easily removed while eating and during oral hygiene routines to ensure proper oral health. Dr. Patel is a family and cosmetic dentist who provides Invisalign treatment, as well as other cosmetic care, to create healthy, aesthetically appealing smiles.
Patients who are interested in receiving orthodontics are encouraged to schedule an appointment for Invisalign in Schaumburg, IL. Consultations with the respected dentist, Dr. Patel, can be arranged by calling Schaumburg Dental Studio at 847-348-8673.
About the Doctor
Schaumburg Dental Studio is a general and cosmetic dental practice offering personalized dental care to patients in Schaumburg, IL since 2004. With nearly 20 years of experience, Dr. Jignesh Patel provides cutting-edge care including dental implants, laser gum disease therapy, orthodontics and cosmetic dentistry treatments. Dedicated to his patients, he frequently participates in community charities including the Dentistry from the Heart Program each year. A patient-centered office, the entire team at Schaumburg Dental Studio strives to offer leading-edge treatments using the latest technology while also making them affordable for their community. To learn more about Dr. Patel, Schaumburg Dental Studio or the services they offer, visit their website at http://www.schaumburgdentalstudio.com or call 847-348-8673 to schedule a custom consultation.