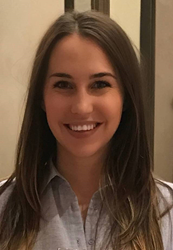 Houston, TX (PRWEB) March 01, 2017
Growth acceleration for FireDisc® continues under the meticulous vision of FireDisc® Co-Founders, Hunter and Griff Jaggard, fueling the need for the brand to carve out and fill key in-house support roles. Courtney Dobbs, the latest new hire, was sought out to add bandwidth and support for the FireDisc® executive and in-house corporate team. Courtney brings a rich background in client relations, project management and recruitment to the FireDisc® team and will help facilitate smooth daily operations at the FireDisc® corporate headquarters.
"We are thrilled to have Courtney join the FireDisc® team," says Co-Founder Hunter Jaggard. "She brings with her a wide array of valuable expertise our team will gladly harness to optimize office efficiencies." "Courtney will provide vital support for the entire FireDisc® team covering everything from executive support to office management, trade show and event travel coordination, order entry and website updates," adds FireDisc® Co-Founder, Griff Jaggard. "I am not sure what we have done without Courtney thus far?"
"I am honored to work for a company with a well-defined a vision and strong set of core values," shared FireDisc® new hire, Courtney Dobbs. "Often companies reveal visions, missions and values that sound inspiring, yet in reality aren't instilled throughout the organization. FireDisc® Co-Founders, Hunter and Griff Jaggard, live them all, resulting in widespread adoption from the entire team. Add to this an atmosphere where family comes first. For me, as a new mother and a hardworking employee, I am grateful to have found such a healthy hybrid at FireDisc®."
As growth continues to soar, FireDisc® plans to fold in added layers of support where necessary to accommodate increasing corporate and client needs. Most important to note, however, is the brands' commitment to careful management of this widespread growth. Strategic positions have already been added in sales, production and office administration to afford the current management team to remain committed to customer satisfaction and new product development. From a concept born out of a tractor plow disc in 2010 to a 209% sales increase in 2017, FireDisc® is staffing up strategically to ensure healthy long term growth.
About FireDisc®:
Texas-based FireDisc® specializes in the design and manufacturing of the world's most the innovative, high-quality and versatile portable outdoor cookers and accessories. The company was founded by two entrepreneurial brothers, Griffin and Hunter Jaggard, who, armed with a makeshift tractor plow disc set out on a mission to build a cooker worthy of everyone from the world's top chef's to hunters, backyard family grill masters, tailgaters and campers. FireDisc® Cooker products are currently sold nationally and online throughout the globe.
Heavy-duty ultra-high carbon steel construction render the cookers indestructible, while meticulous designs yield convenient portability and ease-of-use. A rigorous "Chef-tested/Chef-Approved" quality assurance program enables the cookers to deliver unmatched cooking characteristics, as they have been vetted by some of the world's leading chef's. Prior to their launch of FireDisc® Cookers, the founders formed a non-profit to raise money and find a cure for Multiple Sclerosis. To date $1M has been raised via "The Carney Men" Bike MS team. For more information, visit http://www.firedisccookers.com.
###
Media Contact
Janine Robertson
Cell: 206-354-9093
firediscjanine(at)gmail(dot)com
http://www.firedisccookers.com