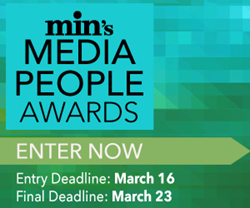 New York, NY (PRWEB) March 01, 2017
min is pleased to announce the launch of the Media People Awards, recognizing standout individuals and teams from top media companies. Honorees of this esteemed program will be spotlighted onstage at min's Magazine Media Awards Breakfast on June 20, 2017 in New York City. Winners will also be profiled on minonline.com.
"We at min understand that at the heart of any successful media company is its people—their ideas, energy and accomplishments," said min's vice president of content, Tony Silber. "With the launch of min's Media People Awards, we hope to celebrate true standouts in our industry—the people and teams behind the successful campaigns, the great magazine articles, the brilliant social media engagement. The professionals who make it all happen."
Honors will be awarded in the following categories:

Ad Ops Standout
Ad Operations Team
Audience Engagement Standout
Audience Engagement Team
Consumer Marketing Standout
Consumer Marketing Team
Creative Director
Data Strategy Standout
Data Team
Design Team
Designer
Editor
Editorial Team
Event Director
Event Team
Human Resources Standout
Human Resources Team
Marketer
Marketing Services Team
Marketing Team
Photo Editor
Public Relations Standout
Public Relations Team
Publisher
Sales Standout
Sales Team
Social Media Standout
Special Projects Team
IlluMINator
Unsung Hero
For a complete list of award categories and more information, visit http://www.minonline.com/media-people-awards-2017/.
For questions about min's Media People Awards and min's Magazine Media Awards Breakfast, contact Zoe Silverman at zsilverman(at)accessintel(dot)com or 301-354-1662. For sponsorship information, contact Tania Babiuk at tbabiuk(at)accessintel(dot)com or 203-899-8498.
About min:
min is the industry's trusted source on the consumer and b2b magazine business, reaching thousands of media executives through print, online and in-person events. For more than 60 years, min has been serving the magazine and media community with unparalleled coverage of this ever-changing industry. For more information, visit min at minonline.com.