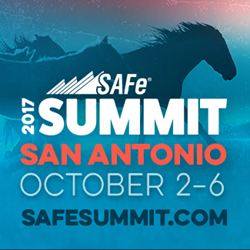 When you are able to tap into the collective experience of this group under one roof, you can understand why the SAFe Summit can be such a transformative experience.
Boulder, Colorado (PRWEB) February 28, 2017
Scaled Agile, Inc. (SAI), provider of SAFe®, the world's leading framework for enterprise agility, today announced that registration has opened for the 2017 SAFe Summit, which will take place October 2–6 in San Antonio, Texas. With over 800 attendees expected, the five-day event will be the largest-ever gathering to focus exclusively on SAFe and its community of practice.
The SAFe Summit is a 'big tent' event for everyone engaged with SAFe—partners, practitioners, instructors, consultants, and enterprise business leaders. It's where the SAFe community gathers to build skills, exchange knowledge, network with each other, connect with thought leaders and influencers, and see first-hand how enterprises are leveraging SAFe to continuously deliver value to their customers. The full agenda and speaker lineup will be announced over the coming weeks, and will feature topics such as SAFe and DevOps, SAFe in government, and SAFe configurability.
"If the Framework has taught us anything, it's the power of face-to-face knowledge sharing," said Dean Leffingwell, SAFe creator and Chief Methodologist. "The real value of the SAFe Summit is found in the people. It's where you can develop your skills with leading SAFe experts, and can connect with your peers who have walked in your shoes and understand your challenges. When you are able to tap into the collective experience of this group under one roof, you can understand why this can be such a transformative experience for those attending."
Described as being "All things SAFe, all in one place," the SAFe Summit combines three key events:
—October 3, Summit Partner Day
Dedicated to building Partner success in selling, supporting, and deploying SAFe products and services, the Partner Day is for Scaled Agile Partners and their certified practitioners, business, marketing, and sales teams.
—October 4–6, SAFe Summit
The two-day SAFe Summit will bring together SAFe practitioners, consultants, as well as Partners and enterprise customers. With multiple keynotes, tracks, breakout sessions, and enterprise case studies, this is a must-attend event for anyone who depends on SAFe, or is considering SAFe to support their enterprise.
—October 2,3,6 SAFe Training Days
Three full days of SAFe training provide ample opportunities for attendees of all skill levels to build their knowledge of SAFe. Topics range from introductory classes such as Leading SAFe, to advanced content such as Scalable DevOps and Continuous Delivery, and Achieving Regulatory and Industry Standards Compliance with SAFe.
For attendees seeking consulting, training, or tooling and platform solutions, Scaled Agile Partners will be exhibiting at the SAFe Summit, making this the only venue where an exclusively SAFe-focused audience can engage with vendors specializing in SAFe.
Registration is open at safesummit.com, with super early-bird pricing available until April 1.
Follow Summit updates and announcements with the hashtag, #SAFeSummit.
About Scaled Agile, Inc. (SAI):
Based in Boulder, Colorado, Scaled Agile's mission is to help system and software-dependent enterprises achieve better outcomes, increase employee engagement, and improve business economics through adoption of Lean-Agile principles and practices based on the Scaled Agile Framework® (SAFe®). SAI supports over 100,000 practitioners of the Framework through training, certification, consulting services, and a global partner network that reaches over 35 countries and 350 cities. As a contributing member of the Pledge 1% corporate philanthropy movement, SAI also seeks to inspire, facilitate, and encourage other companies to make a positive impact in their community.
To learn more about the 2017 SAFe Summit, visit safesummit.com
To learn about Scaled Agile, Inc., visit scaledagile.com
To learn about SAFe, go to scaledagileframework.com
Event Contact:
Kimberly Flory, Events Marketing Manager, kimberly.flory(at)scaledagile(dot)com
Exhibitor Contact:
Patrick Bates, Partner Marketing Manager, patrick.bates(at)scaledagile(dot)com
Media Contact:
Regina Cleveland, Director of Communications, regina.cleveland(at)scaledagile(dot)com