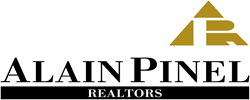 What it comes down to is market expertise, experience and network of client relationships.
SARATOGA, Calif. (PRWEB) February 28, 2017
With many of the nation's top performing real estate markets in Northern California, according to 2016 findings from Realtor.com, Alain Pinel Realtors (APR) continues to lead many of those regions as the number one residential real estate brokerage based on closed sales for 2016, according to TrendGraphix numbers released this month.
According to TrendGraphix, APR was number one in closed sales volume – in many cases leading the brokerage's nearest competitors by almost double – in the following markets last year:

Atherton $470.52 million
Menlo Park $560.8 million
Palo Alto $709.2 million
Los Altos $500.8 million
Los Altos Hills $283.3 million
Los Gatos $391.04 million
Woodside $196.9 million
Half Moon Bay $127.18 million
"What it comes down to is market expertise, experience and network of client relationships," said David Bellamy, chief financial officer for APR. "Our agents have access to some of the best ongoing training in the business, and they are genuine experts in the markets where they operate. That's a big part of why APR remains the best at what it does."
While markets like Atherton and Menlo Park continue to see healthy demand coupled with reduced inventory, fueling the rise in home prices, other markets in Northern California are seeing a decrease in the number of sales coupled with modest median home price increases. San Mateo saw the number of sales closed in the fourth quarter of 2016 shrink by 15 percent compared to 2015, while Half Moon Bay and Woodside saw 10 percent and 9 percent declines, respectively in closed home sales in the final quarter of last year compared to the year prior. Both Half Moon Bay and Woodside, however, experienced declining Q4 median home prices in 2016, 17 and 18 percent respectively.
"The market is leveling off," said Bellamy. "What comes next will be steady, modest growth at the entry-level market price point while buyers and sellers in the upper echelons of the market will take a wait-and-see approach, looking for the optimal purchase or sale opportunity."
About Alain Pinel Realtors®
Alain Pinel Realtors (APR) is the sixth largest residential real estate firm in the United States and the largest privately owned residential real estate company in Northern California based on its closed-sales volume. The firm has 1,400 agents in more than 30 offices throughout Northern California. APR was founded in 1990 by CEO and President Paul L. Hulme, and is based in Saratoga, Calif. Visit us at apr.com, china.apr.com, facebook.com/AlainPinelRealtors, and @AlainPinel.