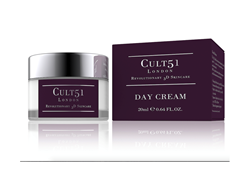 Boca Raton, FL (PRWEB) March 01, 2017
Cult51, a luxury skincare brand based in London, United Kingdom, announced it will launch its pioneering new Day Cream, on March 6, 2017.
Day Cream is Cult51's response to the tremendous success of its award winning Night Cream There was an unprecedented amount of demand and requests from customers to create a daytime moisturizer following the overwhelming success as customers found Night Cream to be extremely effective, so Cult51 listened and developed the new product that is now less than a month from its debut.
"We are thrilled to announce that our new Day Cream will launch on March 6th, and will available in both 50ml and 20ml sizes," said Richard Mears, the owner, founder and lead chemist of Cult51. "It's such an exciting journey to be able to create a product that was driven in large part by the support and enthusiasm of our customers. We have put a lot of work into developing a product that we know will deliver on their hopes and expectations, and are excited to see the response we get."
CULT51 Day Cream features all the ground-breaking technology and nutrition found in Night Cream, but with an SPF and concentration levels which work with the skin to protect, revitalize and add radiance to the skin for the daytime. In just 30 minutes, the cream will boost skin luminosity by an average of eight percent, making it a much faster-acting luminosity agent than more costly laser treatments. This means users will not have to use as much makeup to try to artificially enhance luminosity. The cream absorbs in approximately 90 seconds, so users can apply makeup on top within mere minutes. The Day Cream retails for $299.99.
Within 24 hours of use, the skin will have 25 percent more moisture. Even if the conditions are extremely dry or humid, the skin will always maintain a consistent level of moisture with the help of Cult51's Day Cream. It can be applied to the face, eyes and neck quickly and easily, making it an ideal addition to users' morning routines.
"The people who have already seen and tested this product for themselves have been blown away, so we know our customers are going to be more than satisfied," said Mears. "We look forward to the official product launch, and to making the Day Cream a Cult51 staple for years to come!"
For more information on Cult51, visit http://www.cult51.com.