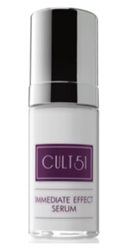 Boca Raton, FL (PRWEB) March 14, 2017
Cult51, a British London based company dedicated to the creation of various luxury skincare products, announced its product line is now available for purchase on CompleteBeautyStore.com, a popular online shop for beauty and skincare products.
Cult51's award winning products have become immensely popular over the years, with some of them having long waiting lists. The products are popular mostly due to their undeniable quality, which is the result of a great deal of research and independent testing performed by the company prior to launching. Now that the company's products are available on CompleteBeautyStore.com, it has access to a new base of customers who care about obtaining the highest quality out of their beauty products.
"We are pleased to announce our Cult51 products are now live on CompleteBeautyStore.com," said Richard Mears, owner, founder and lead chemist of Cult51. "This is a website that has a reputation for providing the very best in beauty and skincare products available today, so our products will fit in perfectly with their offerings. It's a great opportunity for our company to expand our operations into an existing channel of customers who care about getting the best out of their skincare products."
One of the products up for sale on the site is Cult51's Immediate Effect Serum, an anti-aging system that provides some outstanding restorative effects to the skin. When used around the eyes, Immediate Effect Serum works with the molecules in the skin to reduce dark circles, lines, wrinkles and other visible imperfections. Within just 15 minutes the Serum provides users with clear results that last. The serum retails for $149.99.
Another product coming to the site is Cult51's new Day Cream, which was released March 6th, 2017. It features all the ground-breaking technology and nutrition found in Night Cream, but with an SPF and concentration levels which work with the skin to protect, revitalize and add radiance to the skin for the daytime. In just 30 minutes, the cream will boost skin luminosity by an average of eight percent, making it a much faster-acting luminosity agent than more costly laser treatments. The Day Cream retails for $299.99.
"We are pleased to have this opportunity to continue expanding our brand reach and reaching out to more customers than ever before," said Mears.
For more information on Cult51, visit http://www.cult51.com.