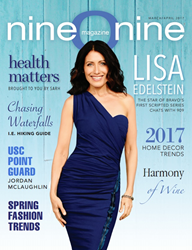 I love television. I love long-form storytelling. I don't want to sit with a character for an hour and a half...
Upland, California (PRWEB) March 02, 2017
909 Magazine is pleased to announce that our latest issue March/April 2017 is ready to be viewed at 909Magazine.com and heading for distribution in print on: March 1st.
909 Magazine's featured celebrity for this issue is none other than Lisa Edelstein, one of Hollywood's top television performers. As we sat down with Lisa she shared that Bravo has picked up the 6th season of its first scripted series, Girlfriends' Guide to Divorce. Lisa has appeared in such hits as; Ally McBeal, Seinfeld, Felicity, and House. Lisa spoke to us about her start in Hollywood and the impact it has had on her life. Lisa talks about her passion for animals and how her support of the charity "Best Friends Animal Society" is important to her.
909 Magazine is an illuminating lifestyle publication for the Inland Empire; showcasing local and national celebrities.