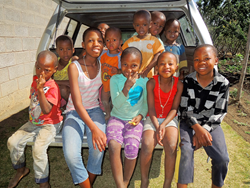 "Contributing toward the education of the students at St. Camillus is a natural extension of what we do," O'Leary said. "The center shares our vision of building strong and healthy communities in which our future leaders will thrive."
Columbus, Ohio (PRWEB) March 06, 2017
Three teenage girls in Africa are now enrolled in school thanks to a contribution from eSchoolView.
The girls — 13, 14 and 16 — are now attending classes in Mohale's Hoek, Lesotho, a mountainous country encircled by South Africa in the most southeastern region of the continent. The donation was made to St. Camillus Center for Orphans and Vulnerable Children for the second consecutive year.
Executive Director Rob O'Leary was eager to continue the support. eSchoolView, which creates tailor-made websites for schools across the country on its content management system and develops other educational management software, is deeply committed to helping students and schools in need.
"We pour our hearts and souls into education because we believe in its power," he said. "We are staunch advocates of investing in relationships, investing in communities faced with need and, in turn, investing in the strength of our future."
The money will provide educational funds for Nteboheleng, 13, and sisters Malimpho, 14, and Makaliseng, 16. Malimpho and Makaliseng's dropped out of school when their parents died last June; Nteboheleng's father is also deceased and her mother, who has three other children, is unable to pay for her daughter's education.
St. Camillus provides shelter, nutrition and schooling to orphans and vulnerable children as part of its mission to keep the area's children healthy, educated and protected from abuse. It also offers support to people in community living with HIV/AIDS and other at-risk groups as they work to achieve independent and productive lives.
The donation from eSchoolView will pay for school fees, books, clothing, and other mandatory supplies for enrollment. The total for high school per year is about $400 per student and $200 for grade school.
"Contributing toward the education of the students at St. Camillus is a natural extension of what we do," O'Leary said. "The center shares our vision of building strong and healthy communities in which our future leaders will thrive."
—
eSchoolView was created in 2008. Named one of 50 Most Promising Education Tech Solution Providers, its award-winning products and sites consistently receive national praise.