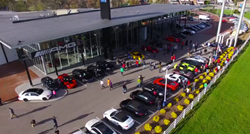 "We are also so proud to be handing over all the proceeds to Cincinnati Children's," - Daniel Govaer
FORT MITCHELL, Ky. (PRWEB) March 07, 2017
After two stunning and successful exotic car meets in 2016, Mercedes-Benz of Fort Mitchell is again rolling out the red carpet for Ferraris, Lamborghinis, Aston Martins, McLarens, Porsches and other luxurious exotics.
Last year more than 500 people gawked at and drooled over more than 100 super cars from members of the Exotics of Cincy car club. This year's kickoff event -- Saturday, April 22, 2017, from 5:30 to 8 p.m. – promises to be bigger and better, with more than $15 million worth of vehicles on display.
The event will be open to the public, without an admission charge, although attendees are asked to bring needed items from the Cincinnati Children's "wish list" (see below).
As attendees get an up-close look at the most stylish, luxurious and powerful rides on the planet, local DJs will provide the groove and local food trucks will be filling the air with heavenly aromas.
And, yes, the public will have a chance to get behind the wheel, virtually at least.
In exchange for a $25 cash or gift-card donation to Cincinnati Children's, drivers will get the opportunity to climb into the world's most advanced virtual-reality racing simulator, the CXC Motion Pro II, and take three exhilarating laps at Watkins Glen International Raceway in a Mercedes-AMG GT3.
"Most of us get to see cars like these only in movies," says Daniel Govaer, manager of pre-owned vehicles at Mercedes-Benz of Fort Mitchell and organizer of the event. "We are thrilled to be able to give people the chance to see scores of these amazing vehicles up close.
"We are also so proud to be handing over all the proceeds to Cincinnati Children's," Govaer says. "We can't think of a more important or more deserving charity."
On their way to the dealership, Exotics of Cincy members will be stopping by the hospital to pick up some "champion patients" and give them a VIP ride to remember to the dealership.
"We realize that none of our dealerships can survive without the community supporting us," says Bernie Moreno, president of Bernie Moreno Companies and owner of Mercedes-Benz of Fort Mitchell. "That's why we are always looking for more ways we can give back to our community and share our blessings."
Items on the hospital's wish list include: Kroger gift cards, gasoline gift cards, restaurant gift cards and Wal-Mart or Target gift cards ($25 or under, please). Also on the list: diapers, baby wipes, toiletries, hairbrushes, combs, toothbrushes, teething rings, pacifiers, onesies, T-shirts, hats, gloves, scarves, bottled water, fuzzy socks, universal phone chargers and Greyhound Bus ticket vouchers.
For more information about the event, how to show your exotic car or for sponsorship info, visit http://www.mbfm.com/exotic-car-meet-and-event-fort-mitchell-ky/
In 2013, with the enthusiastic support of the local community, Bernie Moreno Companies took over the site of the troubled USA Hotel in Fort Mitchell, Ky., demolished the eyesore of a building and invested more than $20 million to build a beautiful new Mercedes-Benz dealership. Today Mercedes-Benz of Fort Mitchell is thriving -- and employs more than 70 people.
In 2005, Bernie Moreno purchased a small, underperforming Mercedes-Benz dealership on the west side of Cleveland, turning it into Mercedes-Benz of North Olmsted, the flagship dealership of his organization. After just one year, that dealership earned a coveted "Best of the Best" award from Mercedes-Benz and would go on to win the award for 10 consecutive years, something no other Mercedes-Benz dealer has done. In the meantime, Bernie Moreno Companies has become one of the fastest growing and most admired auto-dealership organizations in the country, earning awards for its growth, client service, community involvement and employee engagement.
THE CARS
Here is a partial list of the exotic vehicles that took part in the last Exotics of Cincy meet at Mercedes-Benz of Fort Mitchell:
Aston Martin Vulcan
Acura NSX
Audi R8 Coupe
Audi R8 Spider
Audi R8 GT Spider
Audi R8 AMS Performance
Audi S8
Bentley GTC
BMW M4
BMW m3 (various)
BMW M6 (various)
BMW i8
Chevrolet Corvette Zo6 (various)
Dodge Viper / Viper GTS (various)
Ferrari 360 Modena
Ferrari F430 Coupe/ Spider
Ferrari 458 Coupe
Ferrari 458 Spider
Lamborghini Huracan
Lamborghini Aventador SV Coupe
Lamborghini Gallardo
McLaren MP4
McLaren 650S
Mercedes AMG GTS
Mercedes E63S AMG
Mercedes C63S AMG (various)
Mercedes S63 AMG (various)
Mercedes-SLS AMG
Mercedes CLA 45
Mercedes ML 63 / GLE63
Mercedes GLS 63 AMG
Mercedes CLS63S AMG
Nissan GTR
Porsche 911 GT3RS
Porsche 911 Turbo S Coupe
Porsche Panamera (various)
Media members: To schedule a ride on the CXC Motion Pro II racing simulator on the day of the event, contact Daniel Govaer at 440-201-4440.
To set up an interview with Bernie Moreno, contact Marketing Team Lead Ralph Stawicki at 440-567-9144.