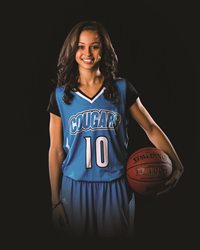 Kalamazoo, MI (PRWEB) March 02, 2017
Last night the Kalamazoo Valley Community College Women's Basketball Team, under the direction of Head Coach Maureen Brown, defeated Lansing Community College 98-62 to clinch the Western Conference Championship. It is the sixth straight year the Lady Cougars have won the Western Conference Championship. The last regular season game is tomorrow, March 1, at home against Glen Oaks Community College. The game tips off at 5:30 p.m.
The team will travel across the state to play at Eastern Conference Champion Macomb Community College, Saturday, March 4 at 3 p.m., for the Michigan Community College Athletic Association State Championship.
Next week, they'll play at St. Clair County Community College on Friday, March 10 and hopefully Saturday, March 11, in the NJCAA District G Tourney.
A win at the tournament will take them to the Division II National Tournament in Harrison, Arkansas, March 21-25.
"I feel like we have the real potential to continue our run," Brown said. "We're currently number six in the country and can definitely push the top teams."
Lady Cougar and lead scorer Ka-Leah Ryan recently netted her 1,000th point as a Cougar, making her only the third person in program history to do so.
Russ Panico,
Athletic Director
269.488.4393 or rpanico(at)kvcc(dot)edu