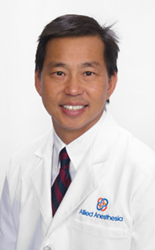 The remarkable level of service [Dr. Char's] given to suffering people around the world is an inspiration to all of us. He truly embodies the giving spirit Allied wants to encompass.
ORANGE, Calif. (PRWEB) March 01, 2017
Award-winning medical group Allied Anesthesia today announced that, as of 2016, Allied physician Clifford Char has completed 25 medical mission trips in underdeveloped nations, averaging more than one trip per year since 1998. Char was named the Los Angeles Times' "Unsung Hero" for 2016. An article on the website features the details of his charitable work. Char has been an Allied Anesthesiologist since 2000.
Dr. Armen Chalian, division lead for Allied Anesthesia's Orange division, said, "We couldn't be prouder to have Dr. Char on the team. The remarkable level of service he's given to suffering people around the world is an inspiration to all of us. He truly embodies the giving spirit Allied wants to encompass."
Char left his original career as a chemical engineer to pursue medicine in 1985. Four years later, he graduated from the John A. Burns School of Medicine in Hawaii, his home state. He completed his residency at Harvard Medical School teaching hospital Beth Israel Deaconess Medical Center, and studied pediatric cardiac anesthesia at Boston Children's Hospital.
Char has served on medical missions to the Philippines, India, Ethiopia, Guatemala, and other countries with organizations including Operation Smile since 1998. The goal of these missions is to provide free surgeries for people with disfiguring conditions like cleft palates and hernias.
In the Los Angeles Times article, Char described that the social stigma of a malformation can be worse for patients than is the disease. He said, "There are some countries that just leave the kid in the jungle and let them die […]. With a simple two-hour surgery, they have their life back. You see them look at themselves in the mirror, or you see the mother look at the child, and you just see hope."
The article also mentions that Char's Christian faith motivates him to participate in the medical missions. He said, "It really is an amazing experience because you go to areas that just don't have anything [….] I've been blessed, so I should be helping other people."
Char practices at several Southern California hospitals and surgical centers, including Children's Hospital of Orange County, Main Street Specialty Surgery Center and St. Joseph Hospital, all in Orange, and The Surgery Center of Newport Coast in Newport Beach.
About Allied Anesthesia: With more than 100 highly qualified physician anesthesiologists on staff, Allied Anesthesia provides adult and pediatric anesthesia services to Children's Hospital of Orange County, Hoag Orthopedic Institute, Pacific Eye Institute, San Antonio Regional Hospital, St. Jude, St. Joseph and St. Mary Medical Centers within the St. Joseph of Orange Health System, and several surgical institutes and centers throughout Southern California. In 2014, Allied Anesthesia joined with Fullerton Anesthesia Associates and Upland Anesthesia Medical Group to consolidate best practices in more than six hospitals and in more than a dozen ambulatory surgery centers. The expanded medical practice is dedicated to offering the highest comprehensive quality of care and the most cost-effective procedures in the facilities it serves. All Allied physician anesthesiologists are board certified in anesthesiology. The doctors also staff and manage the most efficient operating rooms in Southern California. Allied is a member of the California Society of Anesthesiologists, the American Society of Anesthesiologists and the Anesthesia Quality Institute.
For more information, visit: http://www.alliedanesthesia.com.