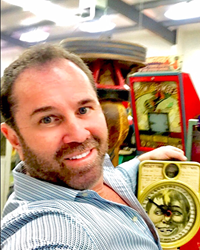 I can't imagine a better fit for our company. Jon has the perfect resume for this position and a rock-star following. His category knowledge and enthusiasm for collecting are second to none." -Dan Morphy, President, Morphy Auctions
Denver, PA (PRWEB) March 01, 2017
Morphy Auctions announced today that Jon Torrence has joined the company's Coin-Op and Gambling Division as Department Head. Morphy's is recognized for its worldwide leadership and excellence in this important category, has sold more coin-op machines than any other American auction house, and has established numerous world-record setting coin-op prices through its sales events. In this mission-critical position, Jon will be responsible for appraising, cataloging, and growing consignment networks, as well as representing Morphy's at coin-op related events nationwide.
Jon, a true entrepreneur, has been self-employed since he was 24 years old. Today, he is known throughout the antique industry for his encyclopedic knowledge of vintage coin-op and gambling machines, outstanding professional networks, and for building, leading, and educating collectors' communities on social networks, including Facebook and YouTube. Jon credits his Grandmother Dorothy as the person who taught him essential industry skills when he was only 7 years old. These included appreciating fine vintage items, negotiating, and building quality collections - all things he continues to do decades later on a daily basis.
Over time, Jon has been involved in many successful business ventures, including those in entertainment, consulting, and real estate. However, it was his work in the amusement industry, where he brought new vending and entertainment applications to regional malls and high traffic locations throughout the West Coast, that awakened his passion for machines with moving parts. Out of financial necessity, he learned to repair and maintain all types of vending equipment. From there, his fascination with mechanical collectibles really exploded. As his skills and resources increased, he built the foundation for a premier collection of coin-op devices, automobiles, and pop culture collectibles through discipline, hard work, and international connections.
According to Dan Morphy, President of Morphy Auctions, "I am thrilled to announce Jon Torrence as Morphy's Coin-op and Gambling Division Department Head. I can't imagine a better fit for our company. Jon has the perfect resume for this position and a rock-star following. His category knowledge and enthusiasm for collecting are second to none." Jon adds, "I am proud to be part of the Morphy team and to head their Coin-Op and Gambling division. I want to give back to the hobby that has been such a positive and huge part of my life. With full honesty and integrity, I will work with consignors to make their experience with Morphy Auctions the absolute best in the business. I promise to provide the tools and opportunities buyers require to purchase with complete confidence!"
About Morphy Auctions:
Morphy Auctions, the finest auction destination for fresh to the market collectibles, is headquartered in Denver, PA. The company also has a satellite office in Las Vegas, NV. A full-service auction house, Morphy's presents over 35 premier auctions annually. The company's three-part mission includes ensuring consignor satisfaction with every auction, offering world-class customer service that goes above and beyond the call of duty, and providing relentless buyer support to create confidence for all clients seeking a trustworthy purchasing experience.
Morphy's team of specialists includes the nation's finest and most recognized experts in popular collecting categories including advertising; firearms; fine automobiles, automobilia and petroliana; coin-operated machines; antiques, fine, and decorative art; dolls, bears, toys, and trains; cast iron; coins; marbles; jewelry and wrist watches. Morphy Auctions is owned by President and Founder Dan Morphy, himself a lifelong and passionate collector of antiques, banks, and numerous other categories.  Morphy's has been in business since 2004 and has grown from two to over 65 employees in over a decade.
Morphy Auctions is located at 2000 North Reading Road, Denver, PA 17517.  We can be reached by phone at 717-335-3435, by fax at 717-336-7115, and by email at info(at)morphyauctions(dot)com.  Morphy Auctions is open seven days a week from 9am to 4pm.  For more information on Morphy's, please visit http://www.MorphyAuctions.com.