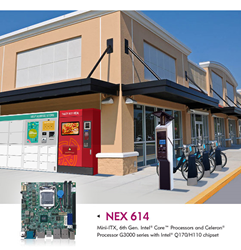 Fremont, CA (PRWEB) March 01, 2017
NEXCOM's latest industrial motherboard NEX 614 accelerates kiosk transformation, fueling the growth of intelligent self-service kiosks. Supporting 6th gen Intel® Core™ processors and Celeron® processor G3000 series, and paired with Intel® H110 or Q170 chipset, NEX 614 is designed to expand the services that kiosks can offer, create satisfying user interactions and experiences, and ensure effective message delivery with immersive graphics. This industrial motherboard can encourage innovative use of self-services kiosks in the service sector including retail, tourism and hospitality, and more.
Combining high computing power, support for 4K videos and triple displays and high-speed I/Os into a Mini-ITX motherboard, NEX 614 can smoothly and simultaneously perform a wide variety of functions required of self-service kiosks. The NEX 614 in vending machines can not only sell products but also engage consumers through multiple senses. This industrial motherboard can deliver 4D feasts for the eyes and dispense food and beverages with a pleasant aroma for the nose. Meanwhile, NEX 614 enables vendors to track real-time stock status over the internet for replenishment planning and analysis of consumer preference.
Intelligent self-service kiosks can reduce customer queuing time for the tourism and hospitality industry. Built with NEX 614, intelligent self-service kiosks can allow airlines and hotels to automate routine tasks like checking in passengers and luggage. Bike rental and car sharing businesses can rely on intelligent self-service kiosks to process member registration and billing. Tourists looking for direction or points of interests can find route guidance and recommendations from information stands powered by the NEX 614. 
NEX 614 can also help service providers grow business turf with 24/7 automated intelligent self-service kiosks. Capable of orchestrating kiosks devices and peripherals, NEX 614 can handle member identification, package weighing and collection, payment, ticketing and many other functions, and instruct customers step by step throughout the operation, making it ideal for package pickups, book returns, and bottle recycling among other services.