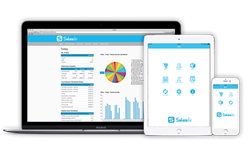 SalesIn is the ultimate platform to manage your incoming sales!
Melbourne, Australia (PRWEB) March 03, 2017
"JobSync actually began as a tool for service people to use to manage their jobs in the field", says Damian Smith, Founder and Managing Director of SyncIT. "Along the way, it shifted into an app for sales reps to use on their favourite iOS device, and while we have grown attached to the name, it never quite made sense for this product! Our focus remains on field sales automation and customer online ordering, so it was overdue for a new name to truly reflect what it does. We think the name SalesIn couldn't be any clearer – it is the ultimate platform to manage all incoming sales, whether they are from sales reps, online ordering, or your showroom. It is the best way to get sales in!"
SalesIn provides the modern sales rep with everything they need while out on the road in front of clients. Reps can easily see and update their client's information and order history, show off their product ranges, check instantly for stock availability and more. Customer specific pricing is automatic, removing the need for separate spreadsheets or folders, and orders are instantly sent back to the office for immediate processing and dispatch. The improved process saves hours of tedious manual labour per week, and enables reps to focus on what they do best – selling.
Integration with popular accounting software such as MYOB, QuickBooks, Xero and Reckon Accounts is available out of the box and completely eliminates all manual data entry. New orders and invoices appear automatically in the accounting software, and any changes made to stock levels, products, pricing or clients are sent directly into SalesIn. And for power users that want to spend time in Excel, SalesIn supports both imports and exports in this format.
In addition to their sales rep solution, SalesIn gives businesses an instant online shop where customers that usually call or email orders through, can now place orders for themselves. As expected in the age of great software as a service apps and platforms, it's super easy to customise colours and options, and users can be up and running in as little as five to ten minutes.
"SalesIn is highly suitable for any business that has something to sell," says Damian. "Whether that's food or beverages, fashion accessories, home and giftware, hair care and beauty supplies or furniture – it doesn't make a difference. We've seen a wide range of industries use SalesIn and improve their way of doing business, ultimately saving them valuable time and money."
SalesIn provides a full feature, free 14 day trial. To learn more, visit http://www.salesin.com or visit SalesIn on Facebook or follow SalesIn on Twitter.