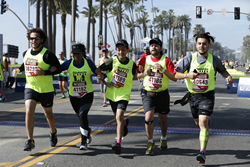 Los Angeles, CA (PRWEB) March 02, 2017
Earlier this month, Students Run LA (SRLA) held their 22nd Annual SRLA Friendship Run which covers the distance of 18 miles and includes the participation of over 4,000 of the organization's members including 3,200 teenagers, 500 teachers, and 300 public runners. For a total of 7 months, all adult mentors involved with SRLA have volunteered and trained alongside their many young students in preparation for the 26.2-mile Skechers Performance Los Angeles Marathon which brings in about 25,000 participants from across the nation and over 60 countries. Participating in the 26.2-mile annual marathon isn't just a healthy activity and sport for the young participants. Many of these young adults attribute their preparation and participation with SRLA as a catalyst for great changes they have in their lives.
Recognized as a four-star charity by Charity Navigator, the non-profit organization SRLA creates a great, safe, supportive community at 175 public schools across Los Angeles, welcoming more than 3,000 students of all backgrounds and abilities to train. Many of these students are incredibly appreciative of the mentorship and credit SRLA with instilling lessons in effort, commitment and success that they use in everyday life.
Below are some accounts of a few students currently involved with SRLA who are happy to share their personal experiences and stories. These accounts retell experiences of how SRLA provided a positive and healthy outlet, allowing these students to find their inner strength, push themselves both in and out school, overcome personal obstacles and get rid of unhealthy habits.
Daniel Guitierrez, Belvedere Middle School:
Daniel has achieved great strides and has blossomed since joining SRLA. His teacher recently shared that prior to joining SRLA, Daniel did not have the confidence to make friends and would be occasionally harassed at school. That has all changed for Daniel in joining SRLA he has found his inner strength. His teacher had this to say about Daniel:
"Daniel opened up and shared that one reason he joined [SRLA] was because he was getting anxious. He's prone to anxiety attacks. He went to the doctor and was told he needed to lose weight. So far, he's dropped 30 lbs and his anxiety attacks are much less frequent. He's a history buff, focuses on age of pirates and civil war and has intrigued me with his art skills and creative writing. [In gym class], he's one of the few students who puts extra time into his conditioning, often willing to stay with me on fitness days and do core work at school and he runs extra on the weekends. Although he is my slowest paced runner, I suspect it's his autism that only permits him to run at a certain level of difficulty, he'll probably be my runner of the year."
Jennifer, Academia Avance:
I just wanted to say thank you because of SRLA I lost about 100 pounds and met goals I would have never imagined myself accomplishing. I stopped drinking and going out in order to attend races and morning practice runs the following morning. I stayed out of trouble and avoided a horrible future. I avoided shootings that would take place in parties that I had once attended, fights, and accidents that were caused by drunk drivers. I mention drunk drivers because more than half the time, the person that would drive me home was intoxicated. I'm sure you've made a difference in other kid's lives as well not just mine. But I just wanted to say thank you and let you know that you are appreciated.
Brandon, Verdugo Hills High School:
Brandon three years ago had never been part of any team let alone any formal physical activity. His first year you would find him at the back of just about every training run but a more dedicated runner you would not find. With the support of his fellow teammates and the love and dedication of his family he finished his first marathon. The following year, his sister and aunt joined our team as coaches and adult mentors after witnessing the dedication and determination of Brandon. He runs at the front of the pack, he trains all year round at the gym or with his teammates, and he has a new set of life long friends. His sister and aunt have commented that before SRLA school was not a priority, but now he is in AP Calculus and applied to colleges and universities. SRLA has done for Brandon what the founding teachers of the program would hope it would do; give [students] a goal beyond their expectations and help them get there. Brandon has realized, if he can run a marathon, nothing is beyond his grasp.
Runners like Daniel, Brandon and Jennifer, now look forward to an even greater challenge: the well-known Skechers Performance Los Angeles Marathon being held in a few weeks on March 19, 2017.
Skechers Performance Los Angeles Marathon Weekend (Friday-Sunday, March 17-19)
SRLA has a busy weekend ahead of them, as the organization will also be present at the Marathon Health & Fitness Expo held at the Los Angeles Convention Center in downtown Los Angeles prior to the marathon (Friday and Saturday, March 17-18). Student runners, families and guests attending the Expo are encouraged to stop by the SRLA booth where wristbands, shirts, goodie bags and more will be distributed! For those not participating in the 26.2-mile marathon, on Sunday March 19th there will be plenty of SRLA Cheer Zones where guests are encouraged to cheer on and support all SRLA runners and participants.
To learn more about the marathon weekend, find ways to be involved, please visit https://srla.org/events/srla-marathon-weekend or contact Paul at paul(at)srla(dot)org or 818.654.3360. For any media inquiries, including setting up interviews with any participants or sponsors please reach out to Ed Solorzano at ed(at)efpublicrelations(dot)com or 323.810.6403.
About Students Run LA (https://srla.org/about-us/our-mission)
The mission of Students Run LA is to challenge at-risk secondary students to experience the benefits of goal-setting, character development, adult mentoring and improved health by providing them with a truly life-changing experience: The training for and completion of the Skechers Performance Los Angeles Marathon. Through this life-changing experience, students discover their best selves and learn how to make plans for the future.