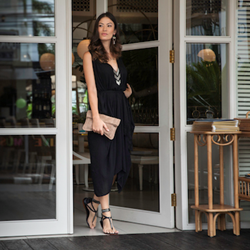 "The New Luxury is about the time, passion and consideration that went into its creation." - Lara Braga
Denpasar, BAli (PRWEB) March 08, 2017
Focusing on timeless, famine and handcrafted design, Lara has an uncompromising attitude in her approach to design and production and is passionate and dedicated to the belief and the importance of producing beautifully hand crafted products in ethical working conditions.
Uma and Leopold have a supreme ability of giving classical shapes and design a modern twist with original handcrafted details, noble materials and textures. Each piece is unique, one of a kind and can take a month for creation.
Crafted by handpicked, gifted local artisans, the delicate beading and meticulous details reflect the brand's unique handmade techniques. The use of diverse handwork techniques as Kerawang art, embroidery, hand beading and leather weaving reflect the brand's signature.
Uma and Leopold, designed by Lara Braga, who originally hails from Rio de Janerio and born into a family of craftsmen and makers, finds her earliest memories sitting on her father's lap as he worked. Surrounded by this business family atmosphere, she absorbed their teachings and her artistic expression bloomed into her life's path.
"There is always so much to be grateful for, to learn, so much to explore, people to meet, techniques to improve and technology to embrace, which I keep open to receive to further uma and leopold collections with beauty, creativity, quality and beyond everything else, much love. Terima Kasih Bali. " 
To find out more about Uma and Leopold fashion and to get your 15% discount on your first purchase online, please go to https://umaandleopold.com/